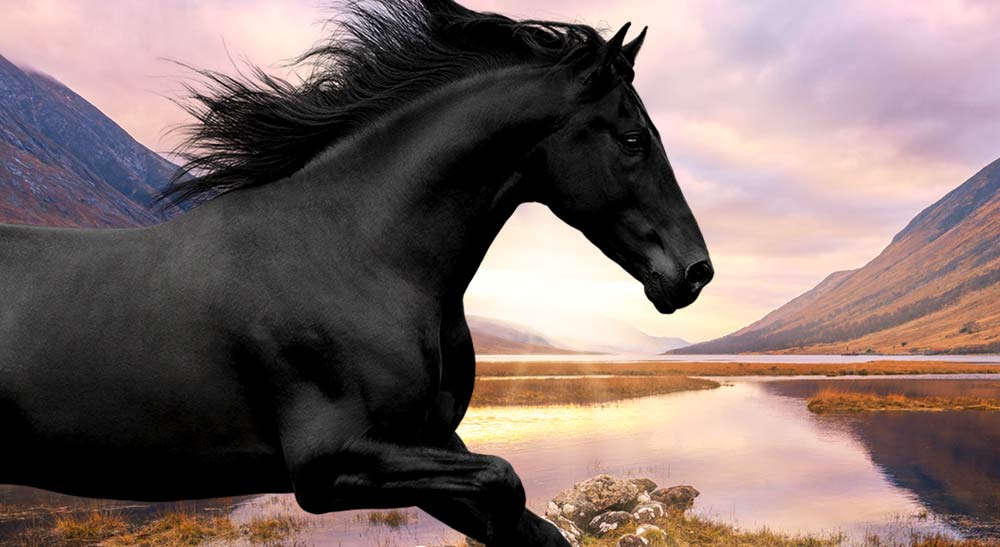 Helping Britain Prosper:

annual report and accounts 2022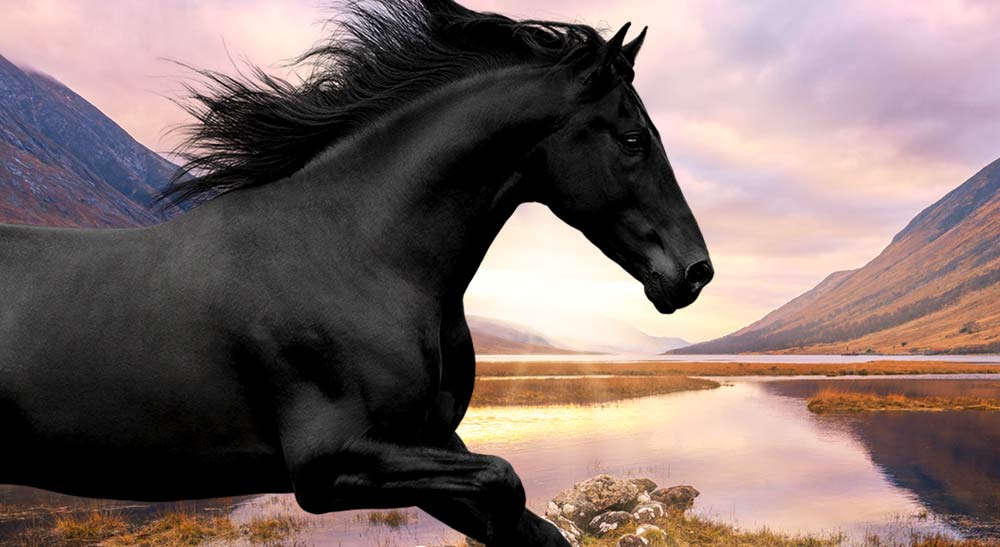 We are Helping Britain Prosper by creating a more sustainable and inclusive future for people and businesses, shaping finance as a force for good.

---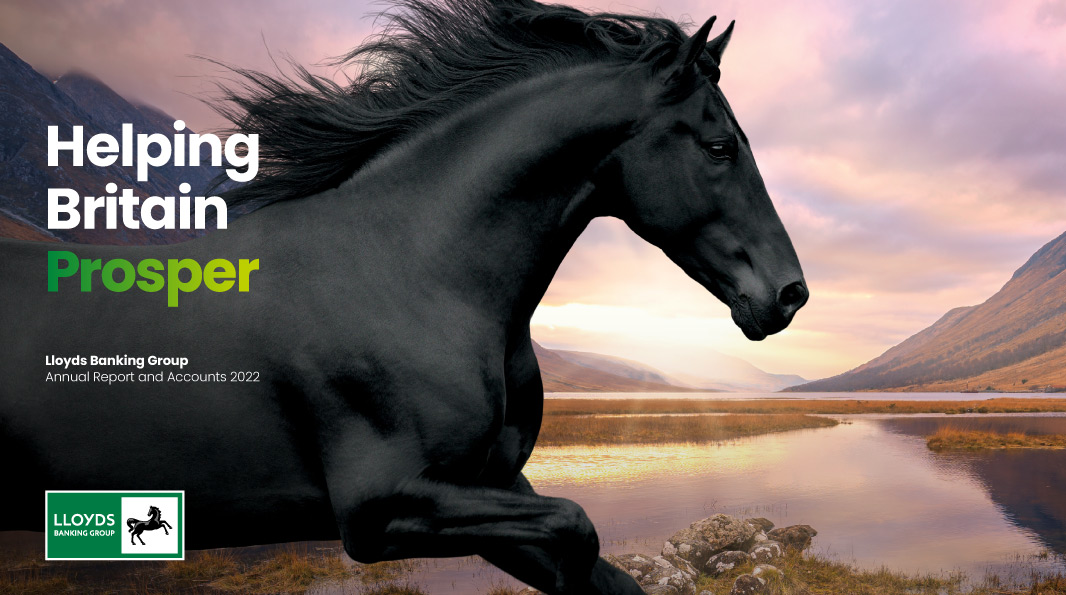 Annual report
Our annual report provides disclosures relating to our strategic, financial, operational, environmental and social performance, along with detail on our strategy.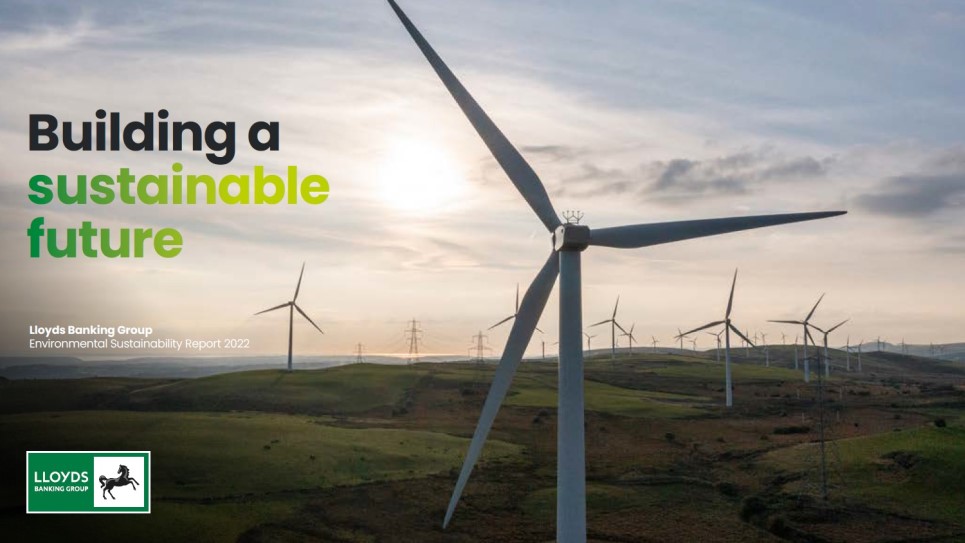 Environmental sustainability report
This report provides an update on how we're supporting the transition to a low carbon economy, including progress against our climate ambitions and targets, our first Group climate transition plan and associated TCFD disclosures.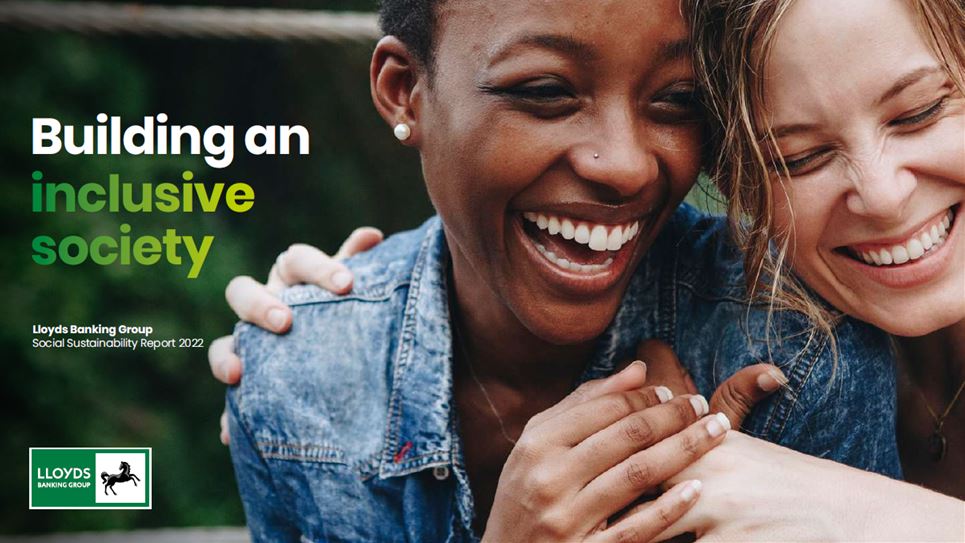 Social sustainability report
This report provides an update on how we're building an inclusive society, including promoting financial inclusion, improving access to quality housing, enabling regional development and championing inclusion and diversity.
How we're Helping Britain Prosper

For over 325 years we have supported Britain through the good times and the bad. Today is no different. During 2022, we have continued to work hard to Help Britain Prosper. This is in the best interests of all our stakeholders.
Given the Group's performance and strong capital position, the Board has recommended a total ordinary dividend of 2.40 pence per share. This represents an increase of 20% on 2021, in line with our progressive and sustainable ordinary dividend policy.

We have also announced a further share buyback of up to £2 billion, marking 2022 as a very strong year of capital return to shareholders.

We have been engaging with colleagues in shaping our journey and co-creating our new Group values to make sure that every colleague is motivated and excited by the role they can play in Helping Britain Prosper.

We have also been conscious of the impact that the increased cost of living has continued to have on our colleagues. In August 2022, the Group gave the vast majority of colleagues a £1,000 one-off payment to help with the rising cost of bills.

In addition, we made significant changes to our reward approach which reflect our continued desire to support our colleagues, particularly those that are lower paid, during these extraordinary times and over the longer term. The 2023 pay award has a cash value typically in the range of 8% to 13% for our lowest paid colleagues.

We've proactively contacted more than 550,000 businesses to offer support and through our financial wellbeing tools, we're monitoring those clients who may be at risk of falling into financial difficulty.

We have been working with these clients to offer bespoke support such as temporary payment plans and 30-day holds which can stop interest or product fees continuing to build.

We continue to offer help to children and young adults across the UK to better understand the value of money and manage their finances day-to-day as they transition to financial independence. Our activity is primarily delivered face-to-face by colleague volunteers in classrooms, but we also have a range of resources that are available for download via the Lloyds Bank Academy site.

In addition, we donated £22.4 million to our four Foundations which cover England and Wales, Scotland, Northern Ireland and the Channel Islands. They provide an invaluable contribution by partnering with hundreds of small and local charities in their area. The Foundations provide funding and other forms of support to help people overcome complex social issues such as mental health, domestic abuse, addiction and homelessness.

Our suppliers and supply chains are integral to how we fulfil our customers' needs. We rely on around 2,600 suppliers for important aspects of our operations and customer service provision.

Recognising the emissions we generate through the purchase of goods and services and working collaboratively with our suppliers to reduce the Group's supply chain emissions are integral to our net zero strategy.

In October 2022, we announced our ambition to achieve a 50% reduction in the carbon emissions we generate through our supply chain by 2030 on the path to net zero by 2050 or sooner.

We regularly engage in open discussion with our regulators and other Government authorities (including HMRC) to ensure the Group operates in line with current and developing legislation.

Lloyds Banking Group is proud to be one of the UK's largest tax payers, helping finance public services.

We're helping our millions of customers – individuals, families and businesses – to spend, save, borrow and invest.
We support our customers in many ways. Given the increasing impact of cost of living on our customers, in July 2022 we launched our cost of living hub across our mobile banking apps and websites. Through the hub customers can get access to free and independent advice with support to help them manage their finances. Since the launch of the app, we've seen over 875,000 customers visit the hub.
Group Chief Executive's review
"Throughout 2022, we have continued to deliver on our purpose of Helping Britain Prosper, core to everything we do, whilst creating a more sustainable and inclusive future for people and businesses.
During the year, the Group delivered a robust financial performance with continued income growth supported by higher interest rates and solid business volumes."
Charlie Nunn, Group Chief Executive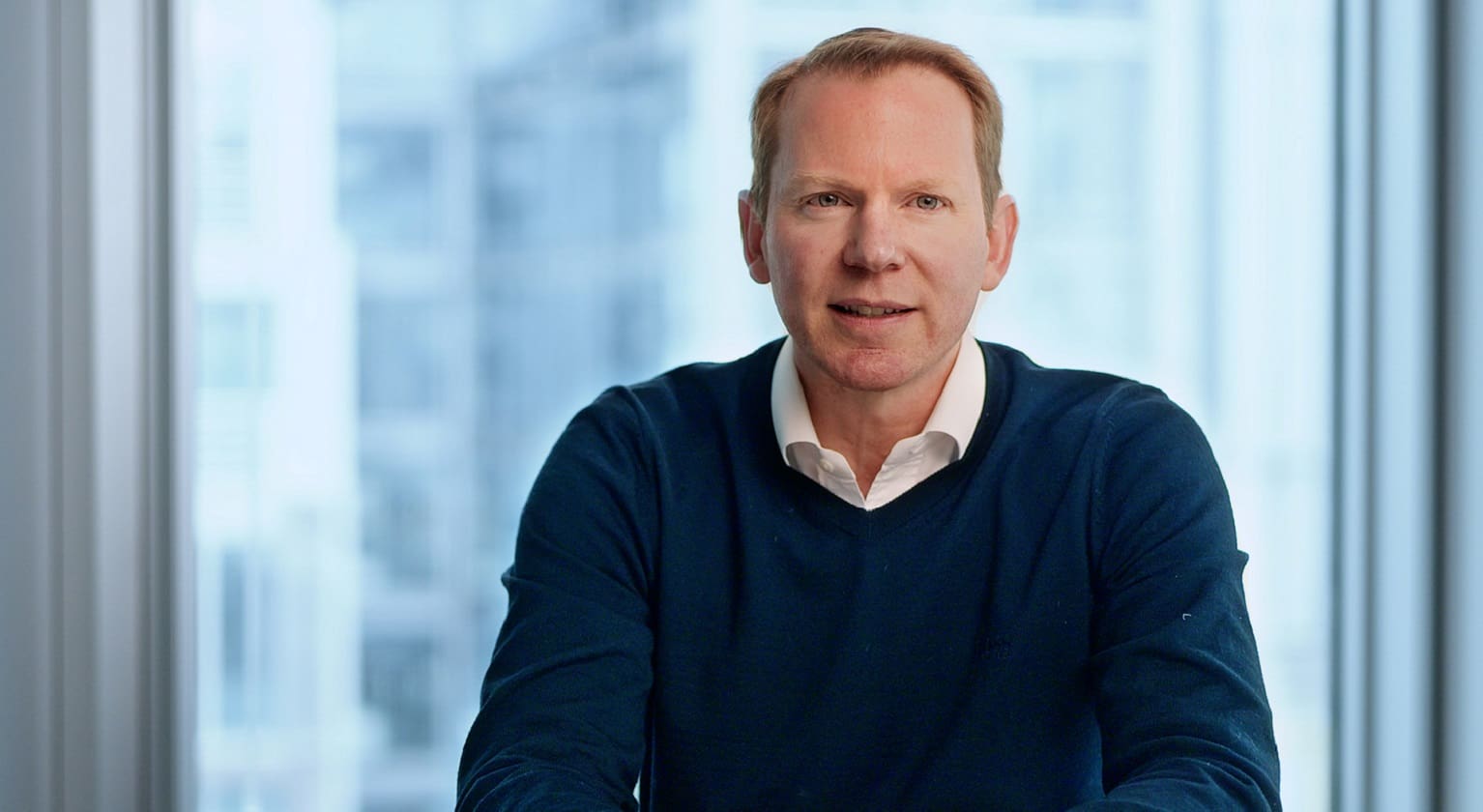 Our strategy: looking to 2023 and beyond
Video | 1 min
Hear from Charlie Nunn, Group Chief Executive, on how we're working to support a more inclusive and sustainable society.
Watch video
Opens video in same tab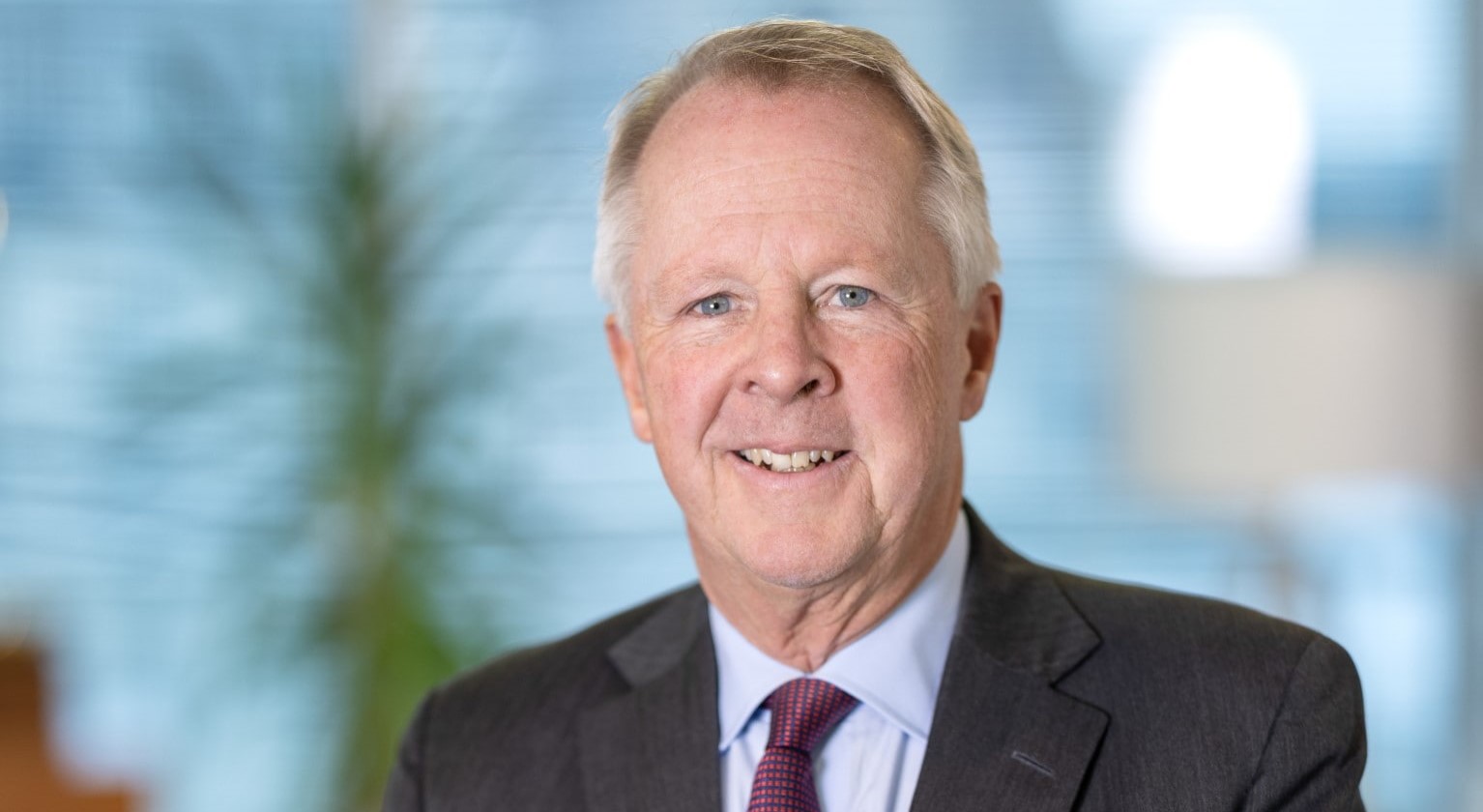 Chair's statement
"During 2022 the Group has continued to make significant progress, effectively supporting our customers through what are clearly uncertain and challenging times, whilst launching a more purpose-driven strategy, accelerating our investment in the business and establishing a culture to support long-term sustainable success."
Robin Budenberg, Chair
Our strategy

Building on our strong foundations and distinct competitive strengths, our purpose of Helping Britain Prosper forms the basis of our strategy to profitably deliver for all of our stakeholders.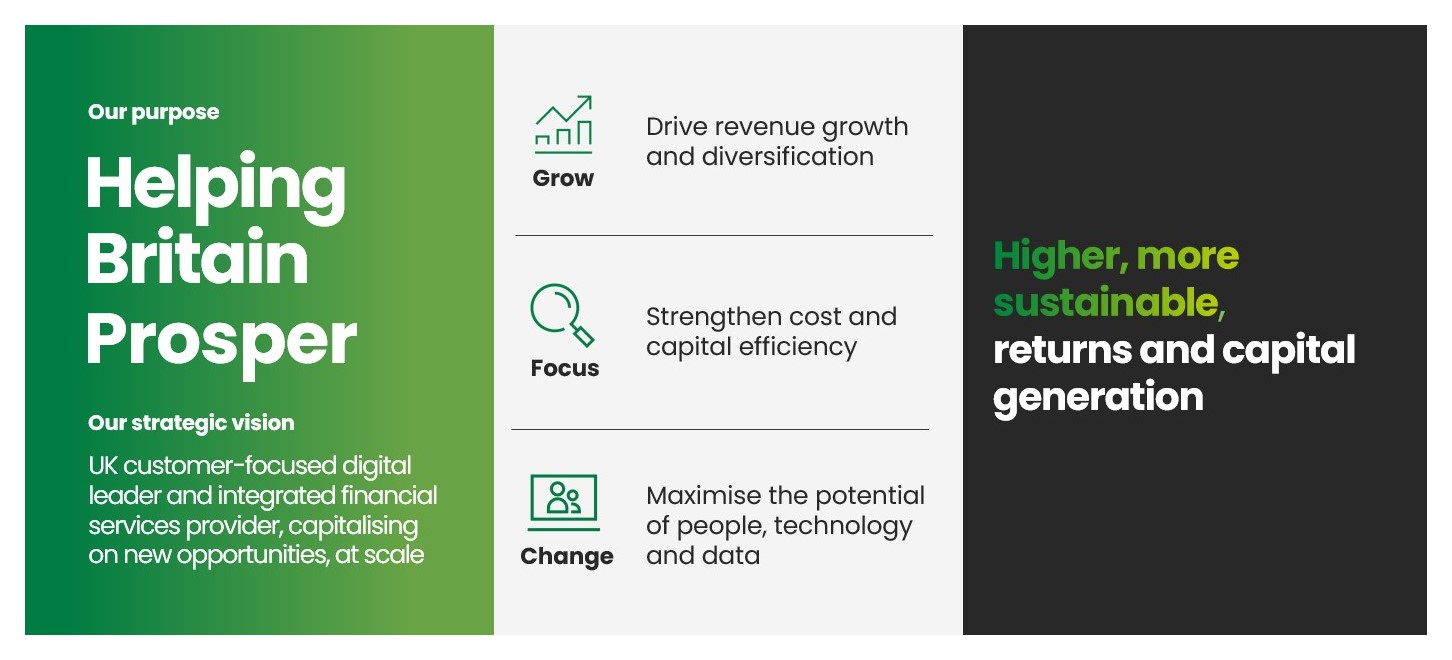 A clear strategy with significant action taken in 2022

Grow

Drive revenue growth and diversification


Investing in growth

£0.9 billion in-year incremental strategic investment weighted towards growth. Delivered early stages of targeted additional 2024 revenues.

Focus

Strengthen cost and capital efficiency


Accelerating efficiency initiatives

Cost discipline in an inflationary environment. Delivered £0.3 billion or around 25 per cent of increased 2024 gross cost savings target.

Change

Maximise the potential of people, technology and data


Mobilising for change

New operating model implemented to deliver change more effectively.
 

Refreshing the team

New organisational structure and leadership team.
Annual report 2022 downloads
Annual report archive
Digital communications
Register to receive all shareholder communications and documents in digital format.

We ask shareholders to access our documents online wherever possible, but if you need a printed copy of the annual report (free of charge) please contact the Company Registrar, Equiniti Limited, on 0371 384 2990.