The history of Bank of Scotland

Bank of Scotland is Scotland's first and oldest bank, and post-dates the Bank of England by just one year.
Early days
Bank of Scotland was founded by an Act of the Scottish Parliament on 17th July 1695. It is Scotland's first and oldest bank, and post-dates the Bank of England by just one year.
The Bank was set up primarily to develop Scotland's trade, mainly with England and the Low Countries. It began business in February 1696, with a working capital of £120,000 Scots (£10,000 sterling).
The 172 original shareholders (including 36 based in London) were largely from Scotland's political and mercantile elite. They hoped to create a stable banking system, which would offer long-term credit and security for merchants and landowners alike.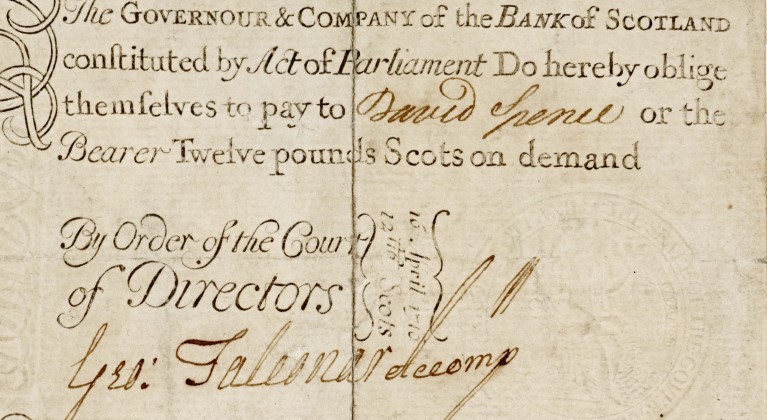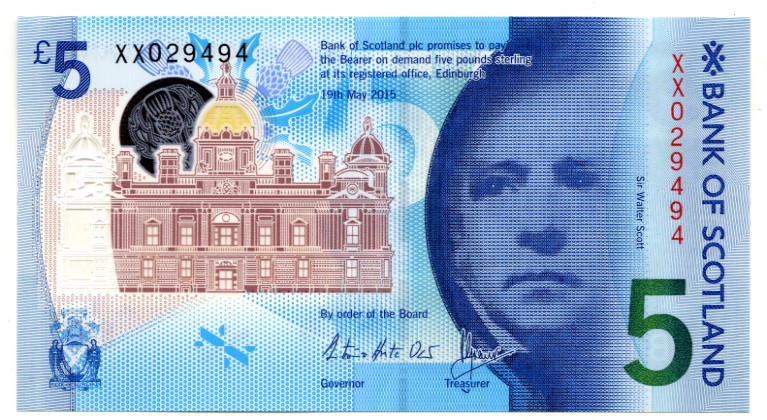 Matters of note
In 1696, Bank of Scotland became the first commercial bank in Europe to successfully issue paper currency. This was an invaluable service, given the unreliability of Scots coinage at that time. These first notes were issued in denominations of £5, £10, £50 and £100 - the first £1 note did not appear until 1704.
The Bank's note issue continues to this day. However, there have been various threats to it over the years. In 1826, for example, there was outrage in Scotland at the London Parliament's attempt to outlaw banknotes for under £5. Sir Walter Scott wrote a series of thinly-disguised protest letters to the Edinburgh Weekly Journal, under the pen-name Malachi Malagrowther. These letters provoked such a sensation that the Government relented. The Scottish £1 note was saved. For this reason, Scott's portrait appears on Bank of Scotland notes today.
Testing times
Bank of Scotland's early years were turbulent ones.
Under the terms of its founding Act, the Bank had been granted a banking monopoly in Scotland for 21 years. After this expired, a new bank was founded by royal charter, in 1727 - the Royal Bank of Scotland. There followed a generation of intense rivalry as the two banks competed to drive the other out of business.
During the Jacobite Rebellion of 1745, Bank of Scotland was forced to close its doors when Bonnie Prince Charlie's army occupied the City of Edinburgh. All the Bank's papers and valuables were transferred to Edinburgh Castle for safe-keeping. There they remained for two months, until the rebel army finally departed.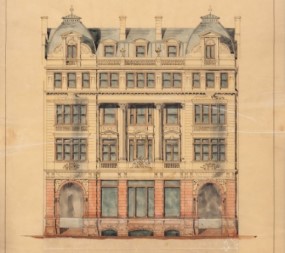 Branching out
Early attempts to establish a branch network proved unsuccessful. It was not until 1774 that the first
branches were opened, in Dumfries and Kelso. Twenty-one years later, the Bank had 27 branches. This had risen to 43 by 1860, and 265 by 1939. Bank of Scotland opened its first permanent office in London in 1867.
During the latter half of the 18th and the early 19th centuries, significant changes to Scotland's banking system occurred. The focus of economic development shifted away from Edinburgh, to Glasgow and the West. Large-scale joint-stock banks also sprang up. These presented serious competition for Bank of Scotland, particularly as most of the newcomers had large branch networks. But the increased numbers of banks, some of which pursued reckless lending policies, led to occasional failure.
Disastrous failures
In 1857, the Western Bank collapsed. Bank of Scotland, along with the other major Scottish players, stepped in to bolster confidence in the banking system. They ensured that all holders of the Western Bank's notes were paid in full.
Twenty-one years later, the City of Glasgow Bank failed in spectacular fashion. All but 254 of its 1,819 shareholders were ruined. This disaster resulted in Scotland's financial focus shifting back to Edinburgh and its more conservative bankers.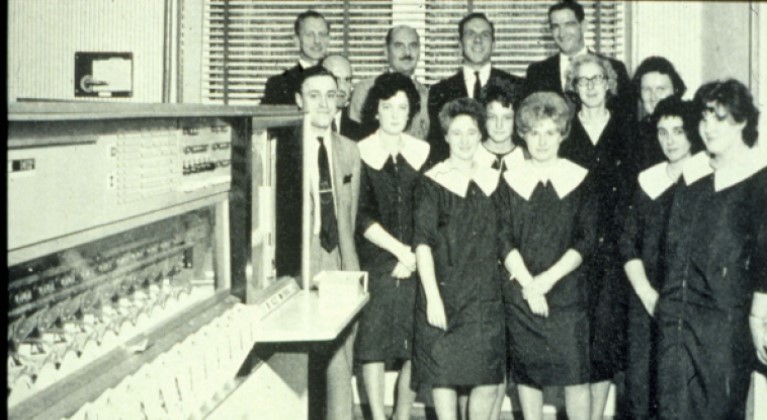 New century, new challenges
The early years of the 20th century brought new business to Bank of Scotland. Companies such as British Aluminium and Barr and Stroud (manufacturers of optical range finders for the British Navy) sought sophisticated finance, on a scale previously unknown.
The outbreak of war meant the Bank had to refocus its policies on national need. The inter-war years proved difficult too, and it was only after the Second World War that the economic climate improved.
The 1950s sparked a series of mergers and acquisitions right across the financial sector. Bank of Scotland began this phase of its development by merging with the Glasgow-based Union Bank of Scotland in 1955. Three years later, it expanded into consumer credit with the acquisition of North West Securities (later Capital Bank). Then in 1971, it merged with the British Linen Bank.
The '50s also heralded the age of computerisation, which was to revolutionise British banking. Bank of Scotland was at the forefront. In 1959, it became the first UK bank to install a computer for processing its accounts centrally. Then in 1985, the Bank again led the way with the launch of Home Banking, the first phase of HOBS (Home and Office Banking Service). An early application of internet technology, this gave customers direct access to their accounts, via a television screen and Prestel telephone network.
Overseas development and subsequent mergers
The Bank was swift to appreciate the massive potential of North Sea Oil. By the early 1970s, it had set up its own specialist Oil Division, financed exploration of the Forties Field, and played a leading role in establishing the International Oil and Energy Bank. In 1975, Bank of Scotland opened its first overseas office in Houston, Texas. Branches followed in other U.S. states, Moscow, Hong Kong, and Singapore. Inroads were subsequently made into Australasia, with the 1987 purchase of Countrywide in New Zealand, and that of the Bank of Western Australia (BankWest) in 1995.
In 2001, Bank of Scotland merged with the Halifax to form HBOS plc. Then in January 2009, following
unprecedented turbulence in the global financial markets, HBOS plc was acquired by Lloyds TSB. The new company, Lloyds Banking Group plc, immediately became the largest retail bank in the UK.
Its registered office, and Scottish headquarters, is the historic Bank of Scotland building on The Mound, Edinburgh.
Understanding our past
A lot has changed during the 300 year history of our brands and while we have much within our heritage to be proud of, we can't be proud of it all. Like any institution that is so interwoven with our country's history, we must acknowledge and learn from our past.
There's evidence in our archive of some links to slavery.
Here's what we know:
Henry Dundas, 1st Viscount Melville was Governor of the Bank of Scotland from 1790-1811. As well as governor, he was also Home Secretary in William Pitt the Younger's government. During this time, he was instrumental in deferring the abolition of the transatlantic slave trade. It is estimated that more than half a million Africans were enslaved as a result.

George Watson (Bank of Scotland's first Accountant, 1696-1697), invested in a London-based venture for trade with Africa that included enslaved people.

Sir William Forbes, James Hunter & Co. - bank had mortgages on properties in Tobago, including some with enslaved people. Customers had connections with plantations with enslaved people.The firm's origins stretch back to 1723. They merged with the Glasgow Union Bank in 1843, which became part of BoS in 1955.

Ship Bank (founded 1749 in Glasgow, successor bank taken over by BoS in 1955). Five of the six founding partners were wealthy Glasgow merchants involved in the tobacco and West India trades, which depended on slavery and the slave trade. One, William McDowell II, inherited a vast commercial empire in sugar and rum, and estates in the West Indies with enslaved people.

Thistle Bank (founded 1761 in Glasgow, successor bank taken over by BoS in 1955). Five of the six founding partners were wealthy Glasgow merchants involved in the tobacco trade, which had strong links to slavery. One, John Glassford, was a prominent Glasgow tobacco merchant. He owned tobacco plantations in Virginia and Maryland, which used enslaved people.

Glasgow Bank (founded 1809, successor bank taken over by BoS in 1955). James Ewing of Strathleven, one of the bank's founding shareholders, was a substantial West India merchant, He received compensation for 286 enslaved people on an estate in Jamaica.

Glasgow Union Banking Company (founded 1830, successor bank taken over by Bank of Scotland in 1955). A number of its early founders and directors were involved in the West India trade, with links to slavery. James Anderson, the bank's first manager, acted as an executor for an estate owner in Jamaica.
Find out more about the history of our brands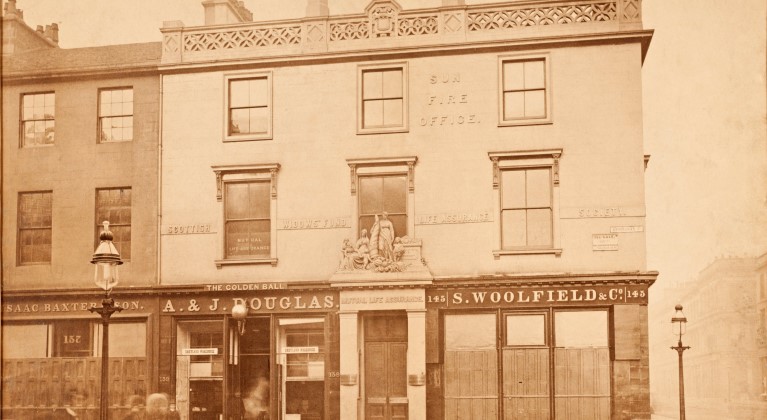 The Museum on the Mound
Our museum is located in Edinburgh, in the Scottish Headquarters of Lloyds Banking Group. It charts the history of banking in Scotland, and explores the theme of money in all its shapes and forms.

Arrange a visit
Arrange a visit