The history of Lloyds Bank
Read about the heritage of Lloyds Bank, right back to 1765 when Taylors & Lloyds opened as a private bank in Birmingham.
Foundations
The firm of Taylors & Lloyds opened as a private bank in Birmingham in June 1765. It was founded by John Taylor, Sampson Lloyd and their two sons. Both fathers were already successful businessmen. John Taylor was a 'toy' manufacturer, famous for his enamelled snuff boxes and ornate gilt buttons, both very popular with 18th century gentlemen. Sampson Lloyd, a Quaker, had inherited the family's iron business.
John Taylor was described by Birmingham's first historian as the 'Shakespeare or Newton of his day'.
Taylors & Lloyds was Birmingham's first bank. For its first 99 years, the business prospered from just a single office. During this period, Birmingham became the powerhouse of the Industrial Revolution, and was known as the 'workshop of the world'. Taylors & Lloyds played a prominent role in financing trade and industry in the town. Customers reflected Birmingham's industries, and included iron founders, button makers, buckle-makers and gun makers. 
Becoming a joint-stock bank
The association with the Taylor family ended in 1852, with the death of James Taylor – his sons were not interested in joining the business. The firm's name was changed to Lloyds & Company.
New legislation, coupled with a need for increased capital, led Lloyds to convert from a private bank to a joint-stock company in 1865. Its name changed once again; it was now Lloyds Banking Company Limited.
The move was part of a general trend in banking, and provided Lloyds with a much broader financial base. Instead of being run by the firm's three partners, the bank now had a board of directors. These included not only members of the Lloyd family, but other prominent local businessmen too.
A young Joseph Chamberlain was on the first board of directors. He later became Mayor of Birmingham, an MP and a member of William Gladstone's Cabinet. He was also the father of future Prime Minister, Neville Chamberlain.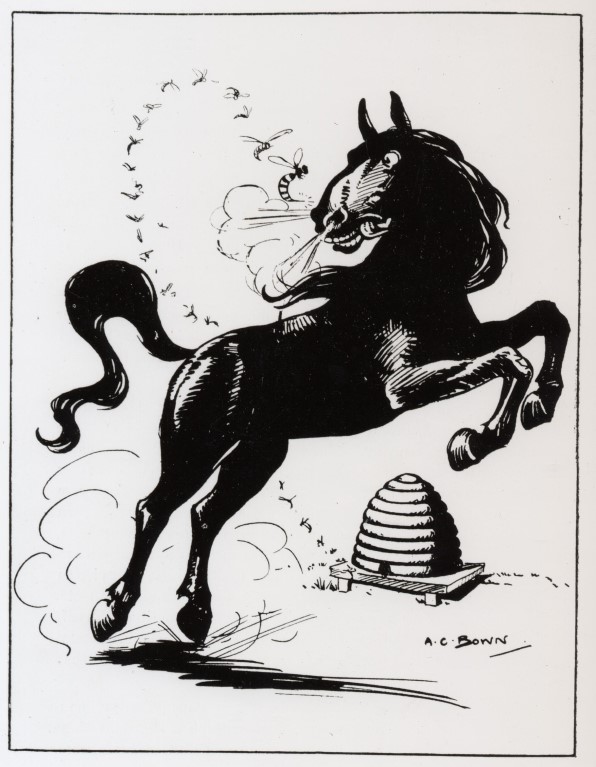 Explosion of growth
The conversion to joint-stock status resulted in an explosion of growth. More than 200 banks were taken over, directly and indirectly, in the next 50 years. In the 1880s, Lloyds, already a powerful force in the Midlands, turned its attention to London. In 1884, it absorbed the Lombard Street bank of Barnetts, Hoares,& Co. It's from this City of London bank that Lloyds Bank inherited the famous black horse.
The black horse dates back to 1677, when it was used by goldsmith Humphrey Stokes in Lombard Street. Samuel Pepys was among his customers.
Other important London takeovers included that of Twinings Bank, in 1892. This had grown out of the world-famous Twinings Tea Company.
The following year, Lloyds acquired Herries, Farquhar & Co. which, in the late 18th century, had invented the traveller's cheque.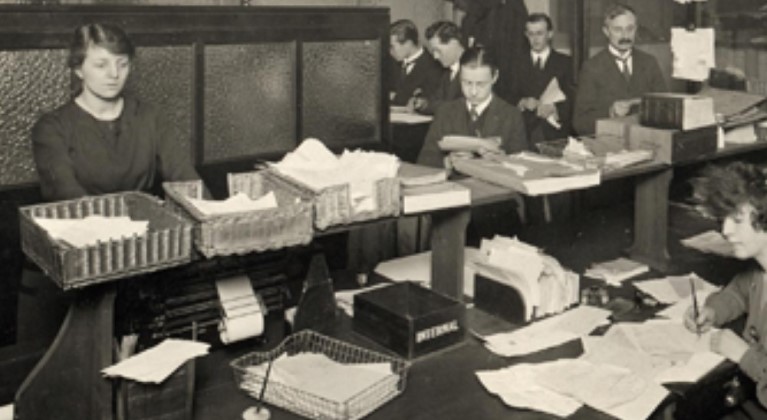 Change in the 20th century
The start of the 20th century marked a period of significant change for Lloyds, on many different levels. 
It continued its domestic growth, taking over banks large and small; it began its expansion overseas; its workforce changed beyond recognition, with the employment of women in large numbers during the First World War; and its accounting systems, largely unchanged since the 17th century, were transformed by mechanisation.
In 1918, Lloyds undertook what was to be its biggest takeover until the merger with TSB, some 80 years later. It acquired Capital & Counties Bank. Through the takeover, Lloyds gained an additional 473 branches – an increase of 53%.
This secured Lloyds' position as one of the 'Big Five' high street banks. In 1921, Lloyds took over the Somerset bank of Fox, Fowler & Co. This was the last provincial bank in England and Wales to issue its own banknotes, which it had done continuously since 1787. It only ceased with the takeover.
The second acquisition, in 1923, was that of army agency Cox's & King's. Previously known as Cox & Co., this firm served as banker to the armed forces. During the First World War, its main office in Charing Cross, London, stayed open 24 hours a day. This meant officers returning to and from the Front could cash cheques at any time, day or night.
Women were employed by the bank in large numbers for the first time, during the First World War. They replaced the men who had gone off to fight.
Technological advances
Mechanisation of branch accounting procedures had begun in the late 1920s, but wasn't completed until 1962. Just one year later, Lloyds took its next giant step and installed its first computer in a branch.
In 1972, the first Cashpoint machine was installed, in Brentwood, Essex. The Cashpoint was the UK's first online real time ATM. It issued variable amounts of cash and immediately debited the amount from the customer's account.
Further expansion
The Cheltenham & Gloucester Building Society joined Lloyds Bank in August 1995. This was the first ever association between a bank and a building society. Later that year, Lloyds merged with TSB to create what was, at that time, the largest force in UK domestic banking.
In 2013, Lloyds TSB once again became two separate banks. This followed a European Commission ruling in 2009 which required the Group to divest part of its business. More than 630 branches across Britain were brought together to form the new TSB. And the Lloyds Bank brand reappeared on the high street once again.
Understanding our past
A lot has changed during the 300 year history of our brands and while we have much within our heritage to be proud of, we can't be proud of it all. Like any institution that is so interwoven with our country's history, we must acknowledge and learn from our past.
The Lloyd family were Quakers and, as such, family members were actively involved in the movement to abolish the transatlantic slave trade. John Lloyd, one of the sons of Sampson Lloyd II, one of the original founders of the bank, was heavily involved in the movement. It's difficult to say whether early customers had connection with the slave trade, as very few customer records have survived. However, customers included those involved in the iron trade as well as gun makers. Birmingham became the main supplier of ironware and guns to Africa, which would have been used by slave traders.
Between 1865 and 1923 Lloyds took over around 50 banks - some 200 in total, as these banks had taken over other banks. There's evidence in our archive of some links to slavery.
Here's what we know:
Willis, Percival & Co. London bank founded in 1668 as a goldsmith. The bank financed international trade, including cargoes of sugar from the West Indies in the 1780s. Customers included owners of West Indian plantations with enslaved people. Taken over by Capital & Counties Bank in 1878, which was taken over by Lloyds in 1918.

Cox & Co. was founded in London as an army agent in 1758. Lloyds Bank took it over in 1923 (by which time it was Cox's & King's). Customer Sir Thomas Champneys owned a plantation, including enslaved people in Jamaica. He went bankrupt and the bank foreclosed on the mortgage. It owned the plantation between about 1822 and 1854. Compensation was paid to bank partner Richard Henry Cox. Other customers included owners of Jamaican plantations with enslaved people.

Bosanquet, Salt & Co., also listed as Bosanquet, Anderdon & Co., was established in 1780 and merged with Lloyds in 1884. Four named partners are listed as having received government compensation for enslaved people following the abolition of slavery.

Berwick, Lechmere & Co was formed in 1831 and was part of a business we acquired in 1918. Two partners were mortgage holders for Virgin Island estates and received compensation.

Charles Haden Adams was a co-claimant for compensation for one enslaved person in Trinidad. Adams was one of 66 members of the Provisional Committee that was formed to set up Lloyds Banking Company when it changed from a private partnership to a joint-stock company (equivalent of a plc in today's terms) in 1865.

The London & Brazilian Bank, which was formed in 1862 and taken over by Lloyds Bank in 1923, also had connections with slavery before it was abolished in Brazil in 1888. This included financing coffee plantations. Mortgages on these plantations were sometimes secured using the monetary value of enslaved people as collateral. John White Cater, Chairman, and two directors, John Bloxham Elin and Edward Johnson had received compensation. John White Cater, who went on to become Chairman of London and Brazilian Bank, received compensation for five claims relating to estates in Jamaica.

Bland, Barnett, Hoare & Co. (founded 1728 in London, successor bank taken over by Lloyds 1884). Customers included owners of Jamaican plantations with enslaved people.

Hanbury, Taylor, Lloyd & Bowman (founded 1772, London agents to Taylors & Lloyds, families related. Taken over by Lloyds 1884). Partners Osgood Hanbury and Osgood Hanbury II owned a plantation in Barbados with c.100 enslaved people. It was sold in around 1810. Customers included owners of Jamaican plantations, with enslaved people.
Praed & Co. (founded in London in 1802, taken over by Lloyds 1891). Founding partner, William Praed, owned two plantations in Jamaica. He and another partner Vere Vane received compensation. Customers owned plantations in Jamaica. A number of them received compensation.

Madison, Pearce & Hankinson (founded in 1770 in Southampton, successor bank taken over by Lloyds in 1903). Partner Robert Pearce received compensation.

Hammond & Co. (founded in 1788 in Kent. Successor bank taken over by Lloyds in 1918). Original partners were from the Gipps family, who owned a sugar plantation in Jamaica.
Find out more about the history of our brands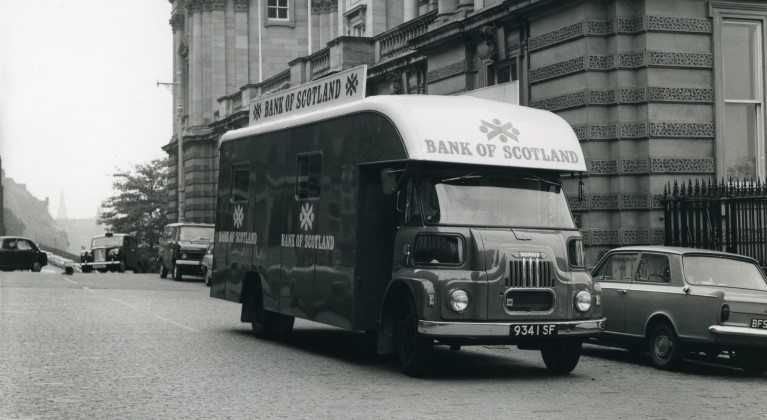 Bank of Scotland
Bank of Scotland was founded in 1695, by an Act of the Scottish Parliament - making it Scotland's first and oldest bank.
Find out more
Bank of Scotland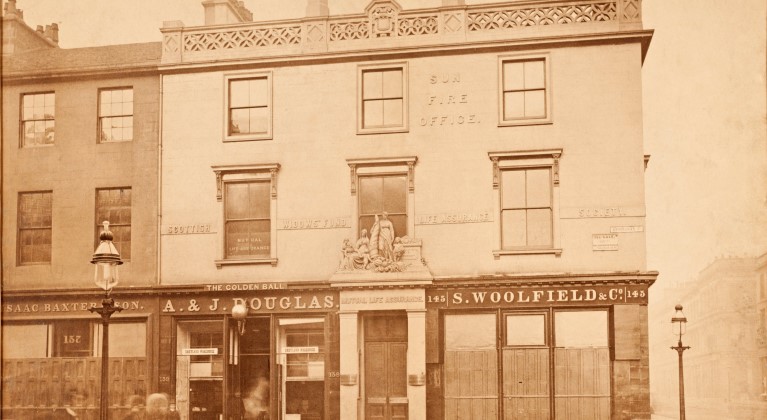 The Museum on the Mound
Our museum is located in Edinburgh, in the Scottish Headquarters of Lloyds Banking Group. It charts the history of banking in Scotland, and explores the theme of money in all its shapes and forms.

Arrange a visit
Arrange a visit