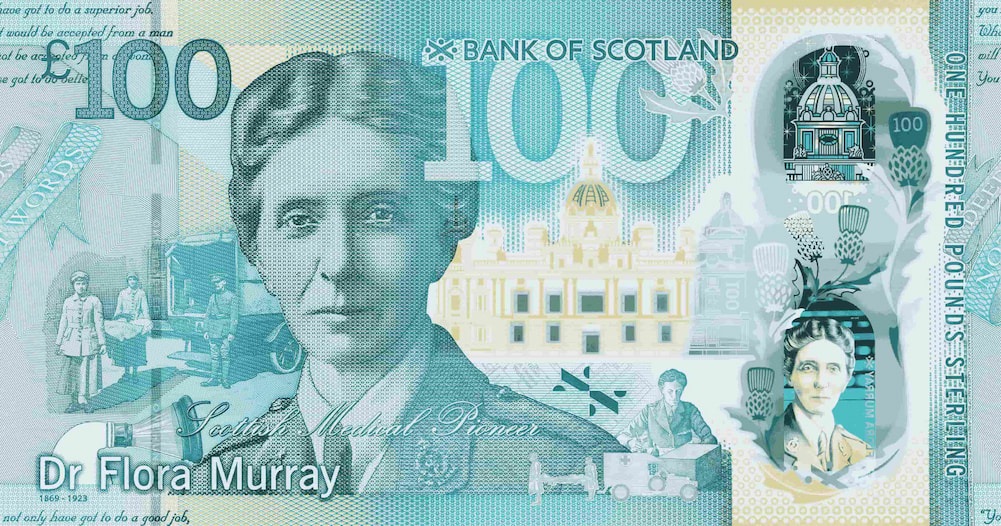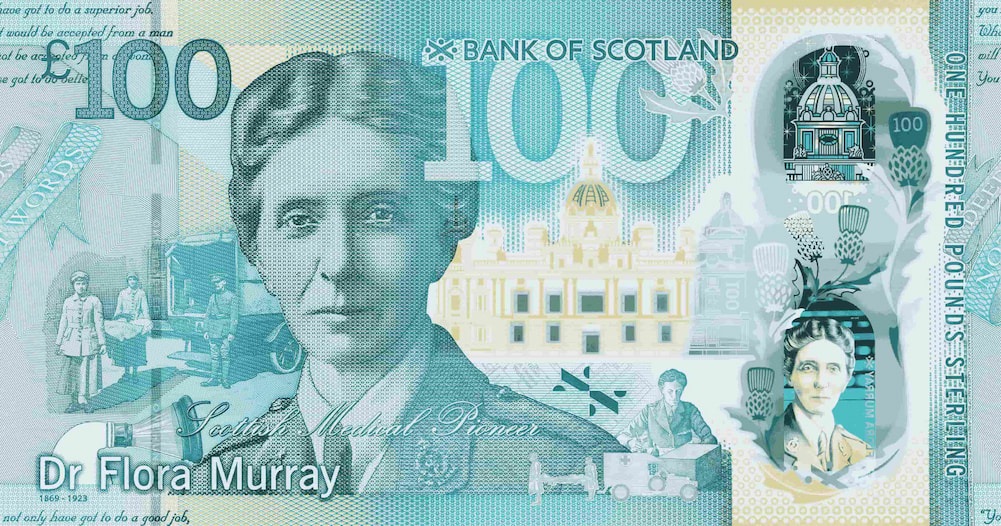 Bank of Scotland unveils its latest £100 polymer note, featuring Dr Flora Murray.

"Deeds, not words." This, the motto of the Women's Social and Political Union (WSPU), founded by activist Emmeline Pankhurst, perhaps best captures the spirit of the suffragette movement and the sacrifices its members made for equality.
As with all necessary struggles it's often the actions of brilliant and tenacious individuals that create lasting change. One such individual was Dr Flora Murray.
And to acknowledge her services during the First World War, plus her unwavering commitment to women's rights, she will feature on Bank of Scotland's new £100 polymer note – the first to celebrate the contribution of a significant Scottish person.
Who was Flora Murray?

Born in Dalton, Scotland, in May 1869, Dr Flora Murray was one of Britain's early woman doctors and a prominent suffragette.
She began her career as a probationer nurse at the London Hospital, Whitechapel, aged 21. And from there studied at the London School of Medicine for Women, the University of Durham and, eventually, the University of Cambridge.1
Together with her partner, fellow medical practitioner and daughter of the first English women to qualify as a doctor, Louisa Garrett Anderson, she set up the Women's Hospital for Children which provided health care for working class children.2
But despite her extensive skills and savvy leadership style, Flora struggled to progress in her career.
You see, until the start of the First World War women doctors were only permitted to treat women and children and could not study general medicine and surgery either.3 This is one of the reasons why Flora – already a staunch women's rights advocate – believed so passionately in women's suffrage.
Alongside delivering medical support to suffragettes recovering from hunger strike and other injuries sustained through their activism, Flora spoke regularly at public gatherings and became one of the key figures for the movement in Scotland.4
She also joined the 1911 census protest – whereby Emmeline Pankhurst rallied women suffragettes to refuse the 1911 census in protest of the government's unwillingness to give women the vote.
How did Flora help during the First World War?
Thousands of soldiers needed urgent medical assistance during the First World War. This is where Flora and Louisa spotted an opportunity to do their bit, plus try and change damaging societal norms for the better.
So, knowing their offers to help would likely be rejected by the British War Office, together they set up the Women's Hospital Corps (WHC) – a group of women doctors and nurses who ran two military hospitals in Paris and Wimereux, France, between September 1914 to January 1915.5
Following the success of those hospitals, Flora and Louisa were then invited by the UK Government to run Endell Street Military Hospital – a large institution in London staffed predominately by suffragette women.
More than 50,000 seriously ill soldiers were treated and countless lives saved while the hospitals were open.6 Even more impressive; both Flora and Louisa had little knowledge of trauma or orthopaedics, yet rose to the challenge nonetheless.
More than
50,000
seriously ill soldiers were treated while the hospitals were open


According to writer and suffragette Beatrice Harraden, both Flora and Louisa: "opened the doors to further fields of opportunity for women physicians and surgeons, and not only for medical women, but for all women who are setting out, or have already set out to conquer fresh territory."7
Unsurprisingly, Flora's heroism didn't go unnoticed. In 1917 she and Louisa were awarded the CBE for their efforts during the war. And in 1923, they retired to their cottage in Buckinghamshire with their two terrier dogs. Although little is known about Flora and Louisa's personal lives they remained in a committed relationship, and even wore matching diamond rings.8

In 1923, Flora sadly died of cancer at the age of 54, leaving behind an inspiring legacy that promoted gender integration within the medical profession. She was buried in Buckinghamshire. Her memorial stone also pays tribute to Louisa, and concludes with the line 'We have been gloriously happy."9

"Flora and Louisa opened the doors to further fields of opportunity for women physicians and surgeons, and not only for medical women, but for all women who are setting out, or have already set out to conquer fresh territory."
Bank of Scotland's bank notes
In 1696 Bank of Scotland became the first commercial bank in Europe to successfully issue paper currency. And the bank has issued notes showcasing Scotland's incredible history for more than 320 years. Currently, it issues £1, £5, £10, £20, £50 and £100 note denominations.
The new £100 polymer note will feature a portrait of Dr Murray at The Royal Free Hospital in London, painted by Francis Dodd in 1921 on its reverse side, plus an image of female stretcher bearers outside Endell Street Hospital.
It also boasts significant security features too, such as an anti-counterfeit 'window effect on its front side that displays an image of Dr Murray, the bank's logo and '£100' within a vertical strip.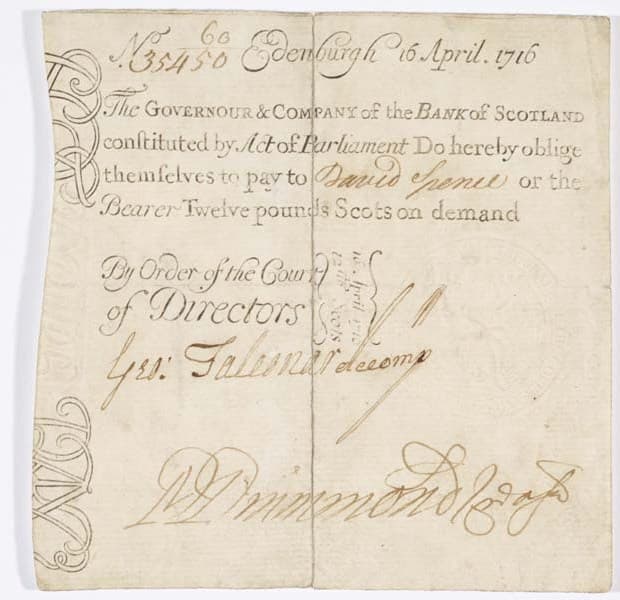 A 12 pound note, issued by The Bank of Scotland in 1716.
When will the new note enter circulation?
The new £100 polymer note will enter circulation on 9th May 2022 – a day after Flora's birthday. And on the same day, the Bank of Scotland will also auction off 94 rare notes with an 'FM' prefix to celebrate Flora using her initials, alongside 'AA' prefix notes, at Spink House, London.
The money raised from the auction will go to our charity partners Mental Health UK and The Royal Free Hospital, London. To date, the polymer collection has raised over £584,000 for charity.
Caroline Clarke, Chief Executive of the Royal Free London NHS Foundation Trust, said: "As the first institution in Britain to train women in medicine, the Royal Free Hospital drew aspiring female doctors from across the globe; we're immensely proud that the Bank of Scotland and the Royal Free Charity have worked together to give Flora her rightful place in the pantheon of British medical history.
"Almost a century since her death, Flora's story is a reminder of the huge debt of gratitude we owe to those early agitators who refused to accept the limitations imposed by a society that didn't believe women could or should be doctors, physicians and surgeons.
"Then and now, we embrace the pioneers, the innovators, and the game-changers."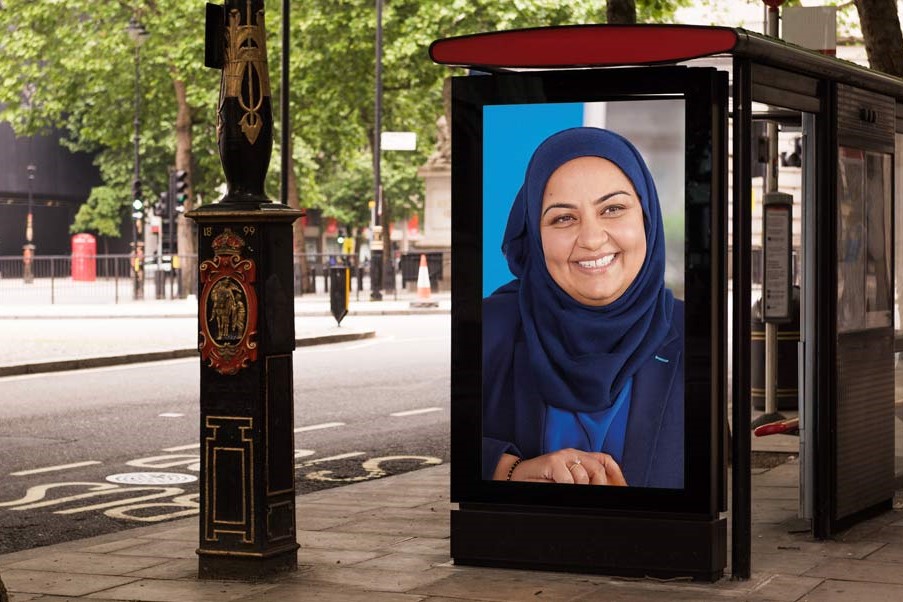 Championing Modern Britain
Championing Modern Britain is a practical guide marketing professionals can follow to create stronger and more inclusive communications.
Read our guide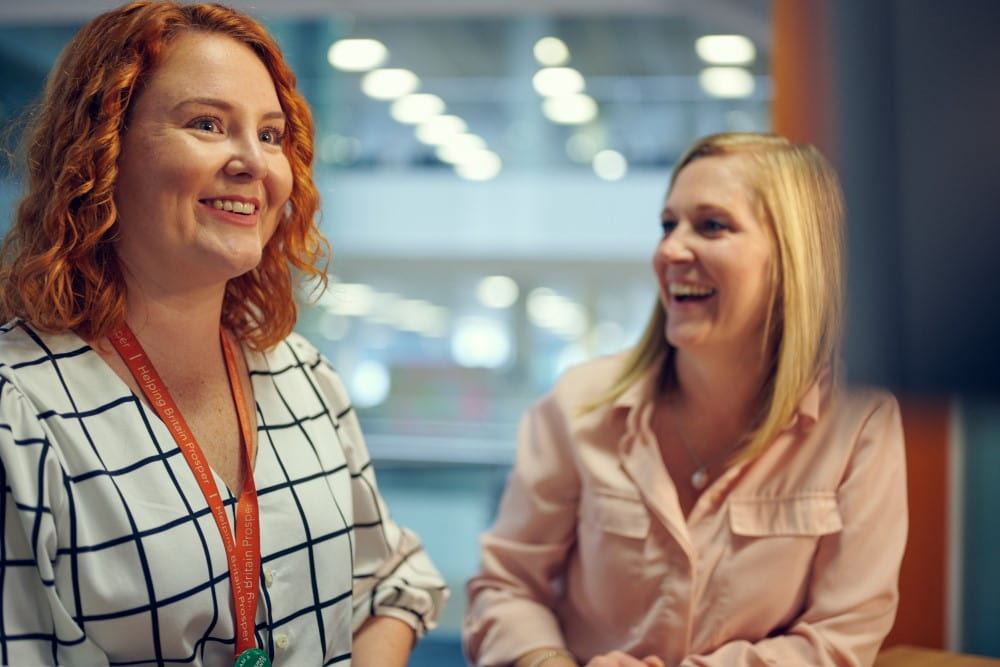 A blueprint for gender inclusion
Fiona Cannon reflects on the first report from the FTSE Women Leaders Review, plus the Group's journey to gender balance.
Read Fiona's article