Waving the Pride flag: LGBT+ and Ally Role Models

For the third year, we're proud to have published our LGBT+ and Ally Role Model list.
Our 2021 LGBT+ and Ally Role Model list, shines a light on our colleagues within the Group who have been nominated for their outstanding impact towards LGBT+ diversity and inclusion

The list is compiled by Rainbow, the Group's professional network for Lesbian, Gay, Bisexual and Transgender (LGBT+) colleagues and anyone who wants to show their support by joining as an ally.
Over the last decade, we've made much needed progress towards LGBT+ equality as an organisation, creating an inclusive and open working environment for both our colleagues and customers and the Rainbow Network has played a pivotal role in our approach to this.
Hear from a few of our role models below.
Anthony Francis is a Senior Manager in our Digital Transformation division, while also being the Rainbow Role Model Lead.
"Role models come from all levels of an organisation. To me, a role model is someone who embraces new capabilities and approaches to supporting colleagues, customers and the wider community.

The list aims to provide our LGBT+ and Ally communities with visible role models — people who look like them , can inspire them, and show them it's okay to be themselves at work.

This year's guide is made up of role models nominated by their colleagues for the impact they have on colleagues, customers and our communities. To use one of my favourite sayings, this list celebrates colleagues who actively support others by "being who they needed when they were younger. "
As well as being the Group Tax Director, Saibh Young is also the Executive Sponsor for Inclusion & Diversity for Group Finance.
"I joined Rainbow, our LGBT+ colleague network, as soon as I arrived at LBG. My wife, Anna is the founder of professional lesbian network, Citypink, an ex-Board member of the charity Stonewall and more recently has been working with the senior leadership team at the Albert Kennedy Trust charity, as such our home is always a hub of LGBT+ activity.
I hope my openness in the way I live and work provides confidence to other LGBT+ colleagues to live and work openly. When anyone speaks about their wedding day, I talk about mine. If the conversation swings to covid and home schooling – I share my experience of 2 teenage boys at home."
Christopher Dalgleish-Maricic, a Workplace Relationship Associate in our Insurance & Wealth division was one of the colleagues who received most nominations from others.
"Joining Lloyds Bankking Group nine years ago has provided me with so many opportunities — both professionally and personally. I have come from a place of privilege, in the sense that I always had a supportive family and friend network, and being gay was never an issue for me.
Thanks to Rainbow, I have been able to attend two Stonewall courses, where I had the opportunity to meet some very inspiring people and learn from their experiences. On the back of this, I was also able to become a Stonewall Youth Mentor — a truly humbling and emotive experience."
Sophie Patel is our vendor management specialist for Lloyds Bank Corporate Markets' North America office.
"I joined the Rainbow network as an Ally about five years ago and it has been amazing to see how much progress has been made globally in the LGBTQIA+ space.
During the past year in particular, I have enjoyed strengthening our internal UK and US Rainbow networks, as well partnering with external LGBT+ networks. We've worked to increase awareness and engagement around the transgender, non-confirming and non-binary population. I'm truly fascinated about what we have been able to acheive working remotely during the pandemic thus far and look forward to seeing what else we can achieve."
Related content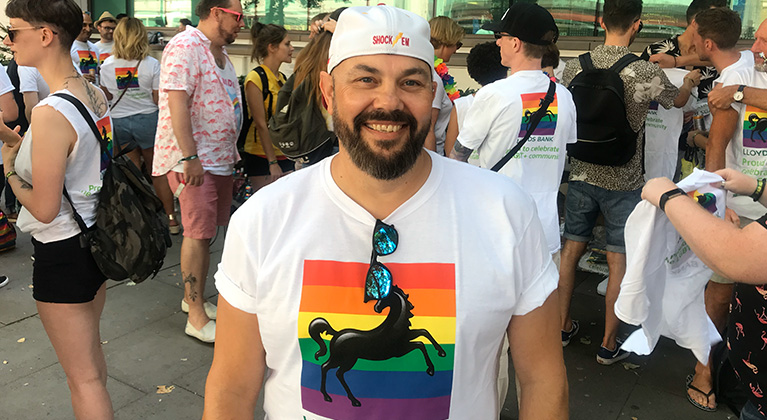 "To be able to be your true self at work, is massive."
Wayne talks about his 18 year journey with the Group and how it helped him be his true self. From being in the closet, to coming out and marching with Pride across London.
Watch Wanye's story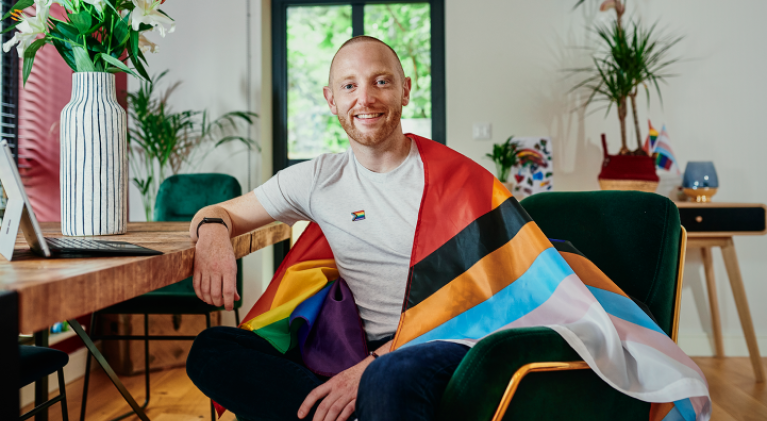 "I love our LGBT+ network and what it has to offer."
Dan, a member of the Group's Rainbow network talks about why the network is so important to him, and how they are always striving to make it more inclusive.
Read Dan's story