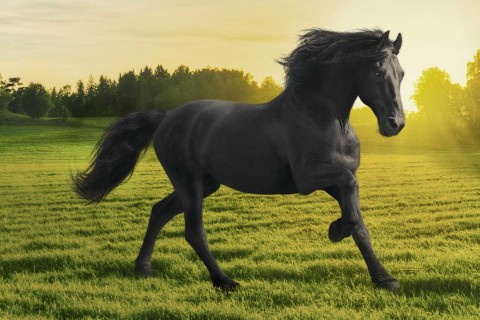 Helping Britain Recover: annual report and accounts 2020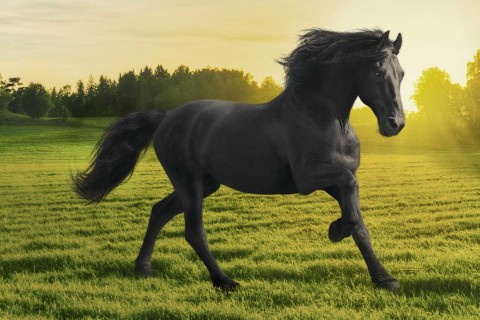 During an extraordinarily challenging time we are Helping Britain Recover, as part of our Group purpose of Helping Britain Prosper.

Supporting our stakeholders during the COVID-19 crisis
The public health crisis caused by coronavirus has affected all of us and the society in which we live. Our priority is to help the UK recover in an effective, inclusive and sustainable way.
We're giving our customers the flexibility they need to manage their finances, while helping protect them from fraud. We're working with the Government to provide loans and working capital support for the businesses of Britain, at the same time as providing the sector-by-sector expertise needed to help them adapt for success.
We're keeping our colleagues as safe as we can while they provide essential services to people across the UK. And we're working with the Government to get practical help to those who need it most, in communities across all the regions of the UK.
For over 320 years, with our unique family of brands, we have supported Britain through the good times and the bad and this time is no different. In 2021, we will continue to do all we can to Help Britain Recover, as this is in the best interests of all our stakeholders.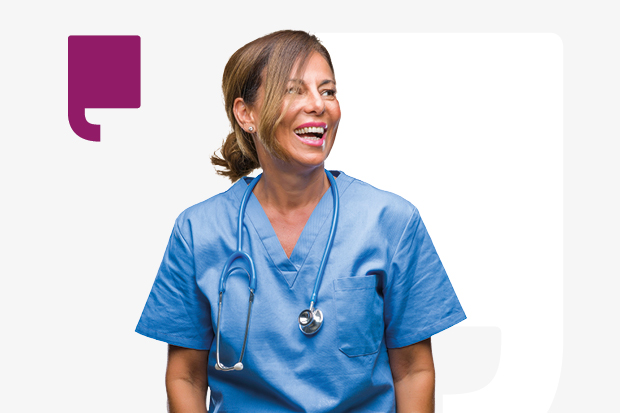 Supporting customers
Many people continue to feel the impact of the past year on their personal finances. We have approved around 1.3 million payment holidays for customers who have mortgages, personal loans, credit cards and car finance with us since the start of the outbreak, and are helping our customers to replan their finances.
Our dedicated telephone services, with extended opening hours for the over 70s and NHS workers, have taken around 880,000 calls since the end of March, allowing us to prioritise support for these customers and their urgent needs. We've also proactively made over 750,000 calls to check on the wellbeing of our vulnerable customers. These services will continue.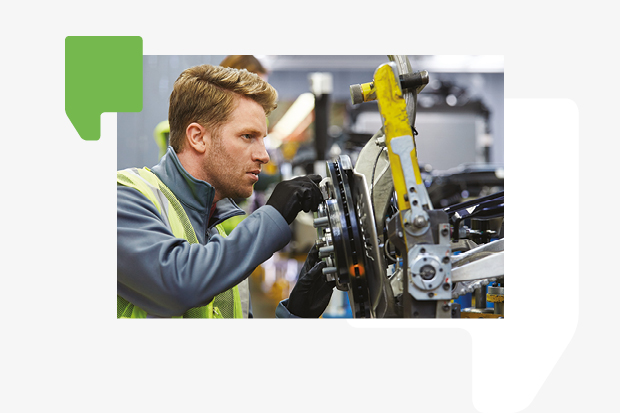 Supporting businesses
As a result of the lockdowns, businesses are facing challenges like never before. Many have been forced to close and furlough their staff, while others have had to adapt to external changes. Whatever situation our business customers have faced, we've stood by their side.
We have supported them to obtain more than £12 billion in finance through the Government backed lending schemes, helped them to manage their cash flow by granting around 34,000 capital repayment holidays and helped their working capital by agreeing around 22,000 fee-free overdrafts to businesses.

We are doing our best to help and advise British businesses of all sizes so that as lockdown eases they can adapt their business models to re-open safely and profitably.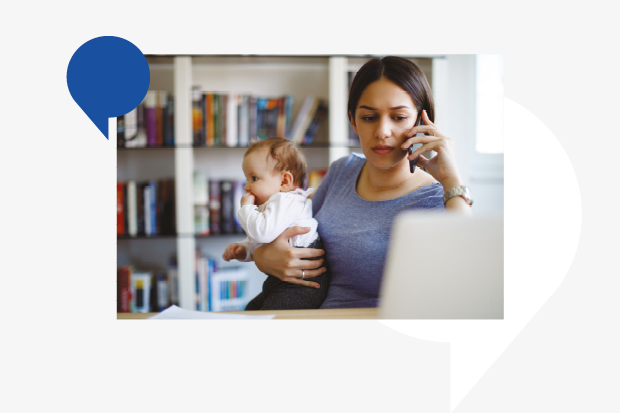 Supporting communities
The effects of coronavirus will remain for some time to come; that's why we're providing extra practical and emotional support for the most vulnerable in society.
Through a range of new and existing partnerships we are providing extra capacity in friendship services, mental health programmes and digital skills training. We have also provided £25.5 million to our charitable Foundations in 2020 and have guaranteed the same funding for 2021, to keep those who are most isolated connected and give people support when they need it most.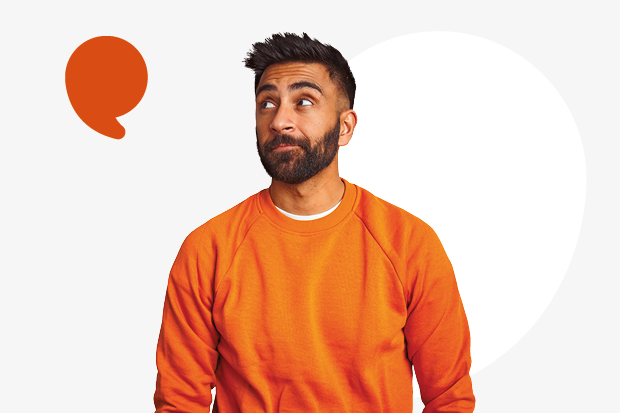 Supporting colleagues
We're taking every precaution to protect our colleagues. More than 50,000 colleagues worked from home for most of 2020, up from 15,000 before the pandemic, and this will continue, until at least Summer 2021.
Where our colleagues are providing an essential service for the UK, such as in our call centres and branches, we are following social distancing rules, to keep both our colleagues and customers safe.

Group performance
Continued strategic progress with financial performance impacted by the coronavirus pandemic, deterioration of the economic outlook and lower interest rates.
£1.4bn
↓ 54%
statutory profit after taxStatutory profit after tax reduced significantly, largely due to increased impairments given the deterioration in the economic outlook.
ordinary dividend per shareGiven the Group's strong capital position, dividends have resumed at the maximum allowed.

Given the Group's strong capital position, dividends have resumed at the maximum allowed.
17.4m
↑ 6.1%
digitally active customersDigitally active customers continued to increase and we remain the largest digital bank in the UK.
81%
↑ 7pp
colleague engagementColleague engagement remains at its highest ever level, with our employee engagement index seven points higher than 2019.
Chair's statement

"The Group has been playing a leading role in the immediate national response, supporting customers, colleagues and our communities through the crisis and beyond."

See page 4 of the annual report for the full statement
Group Chief Executive's review

"Coronavirus has had a profound impact on our lives and the economy but the Group has delivered a resilient performance with continued strategic progress."

See page 8 of the annual report for the full review

Our next chapter

Strategic Review 2021: Building the UK's preferred financial partner
Helping Britain Recover

We recognise that the focus of the Group's purpose must evolve in response to the current environment and changing customer needs and expectations.

With evolution of our strategy, we will further embed our purpose across all of our activities. This will ensure we contribute to creating an environmentally sustainable and inclusive future for the UK and by doing so build a successful and sustainable business.


The global pandemic will have lasting social and economic effects on the United Kingdom. Its impact has been felt by everyone, whether through financial hardship, reduced choices, mental distress or personal loss.


Our focus will therefore be to Help Britain Recover, and we are committed to working with others in five areas where we can make the most difference.

Help rebuild households' financial health and wellbeing

Support businesses to recover, adapt and grow

Expand availability of affordable and quality homes

Accelerate the transition to a low carbon economy

Build an inclusive society and organisation.





See pages 38-39 of the annual report for full details.

Britain's preferred financial partner

Preferred financial partner for personal customers

The COVID-19 pandemic has accelerated a number of pre-existing shifts in customer behaviours and preferences, while also starkly demonstrating financial vulnerabilities affecting customers of all ages across the UK. As the UK's largest financial services provider, we have a unique opportunity to meet more of our customers' broader financial needs and improve their overall resilience throughout their lifetime, with personalised and valueadding products and services that are relevant to them.

Best bank for business

We are committed to remaining by the side of British businesses of all sizes, with market leading propositions that are relevant to their very specific and evolving needs. As we emerge from the COVID pandemic, we will need to continue supporting our clients, not only with their immediate financial needs, but with a focus on helping them adapt, grow and thrive as we transition to a low carbon economy.


See pages 40-41 of the annual report for full details.

Enhancing our capabilities

Modernised technology architecture

In order to remain relevant to our customers and retain our cost leadership position in an increasingly competitive operating environment, we will need to continue modernising our technology architecture. Through this, we aim to deliver a further step change in agility and responsiveness to customer trends, while also supporting our broader strategic priorities around enhanced data insights, improved customer experience and operational resilience and efficiency.

Integrated payments

In recent years digital payments have grown significantly, fuelled by the rapid rise in online shopping and e-commerce, as well as increased demand for speed, convenience, security and choice. Looking ahead, these trends are expected to continue, with the ability to offer a leading payments proposition vital in capturing this significant growth opportunity in the face of increased competitive disruption.

Data-driven Organisation

As the UK's largest financial services provider, processing approximately 14 billion customer transactions and interactions in 2020 alone, we have access to a wealth of customer data. In an increasingly competitive market, it is vital that we are able to appropriately use this data to create insights that deliver better customer outcomes and strengthen our own risk management processes.


Reimagined ways of working

Our people are crucial to the success of the Group and our purpose. To retain this source of competitive advantage, we must evolve our colleague proposition to reflect new working patterns and colleague expectations post COVID, while also delivering a sustainable workspace that supports increased collaboration and innovation. We must also invest in developing future skills, ensuring that everything we do is underpinned by a purpose-driven and inclusive culture.



See pages 42-45 of the annual report for full details.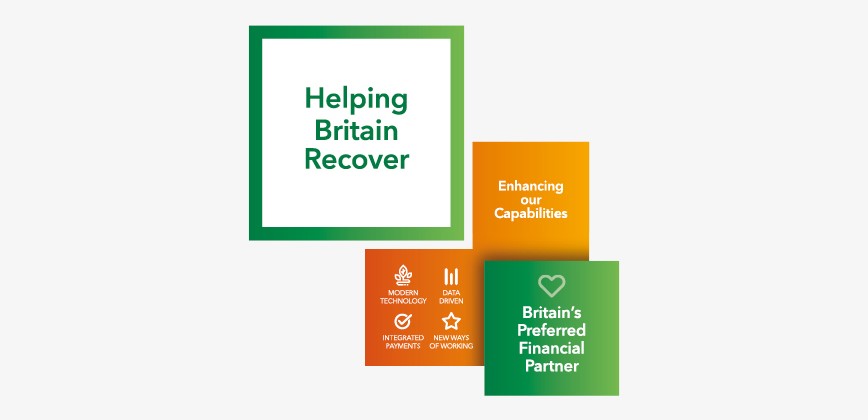 Strategic Review 2021
Lloyds Banking Group is a customer focused, sustainable, efficient and low risk UK financial services leader with the clear purpose of Helping Britain Prosper. The next phase of our strategy, Strategic Review 2021, is focused on Helping Britain Recover and further enhancing our core capabilities.
Through this approach, which is focused on near term execution and underpinned by our longer term strategic vision, we are aiming to capture the co-ordinated growth opportunities available to us in our two core business areas by creating the UK's preferred financial partner for personal customers and the best bank for business.
Strategic Review 2021 builds on our core capabilities and the strong foundations from previous strategic reviews, reinforcing our customer focus. We have made significant progress in recent years, leveraging the unique strengths and assets of the Group, including our purpose driven and customer focused business model, our low risk approach to business, our market leading efficiency and our leading multi-channel propositions including the largest digital bank and branch network in the UK. This has created the platform for Strategic Review 2021.

Annual report 2020 downloads
Annual report archive
Digital communications
Register to receive all shareholder communications and documents in digital format.

We ask shareholders to access our documents online wherever possible, but if you need a printed copy of the annual report (free of charge) please contact the Company Registrar, Equiniti Limited, on 0371 384 2990.