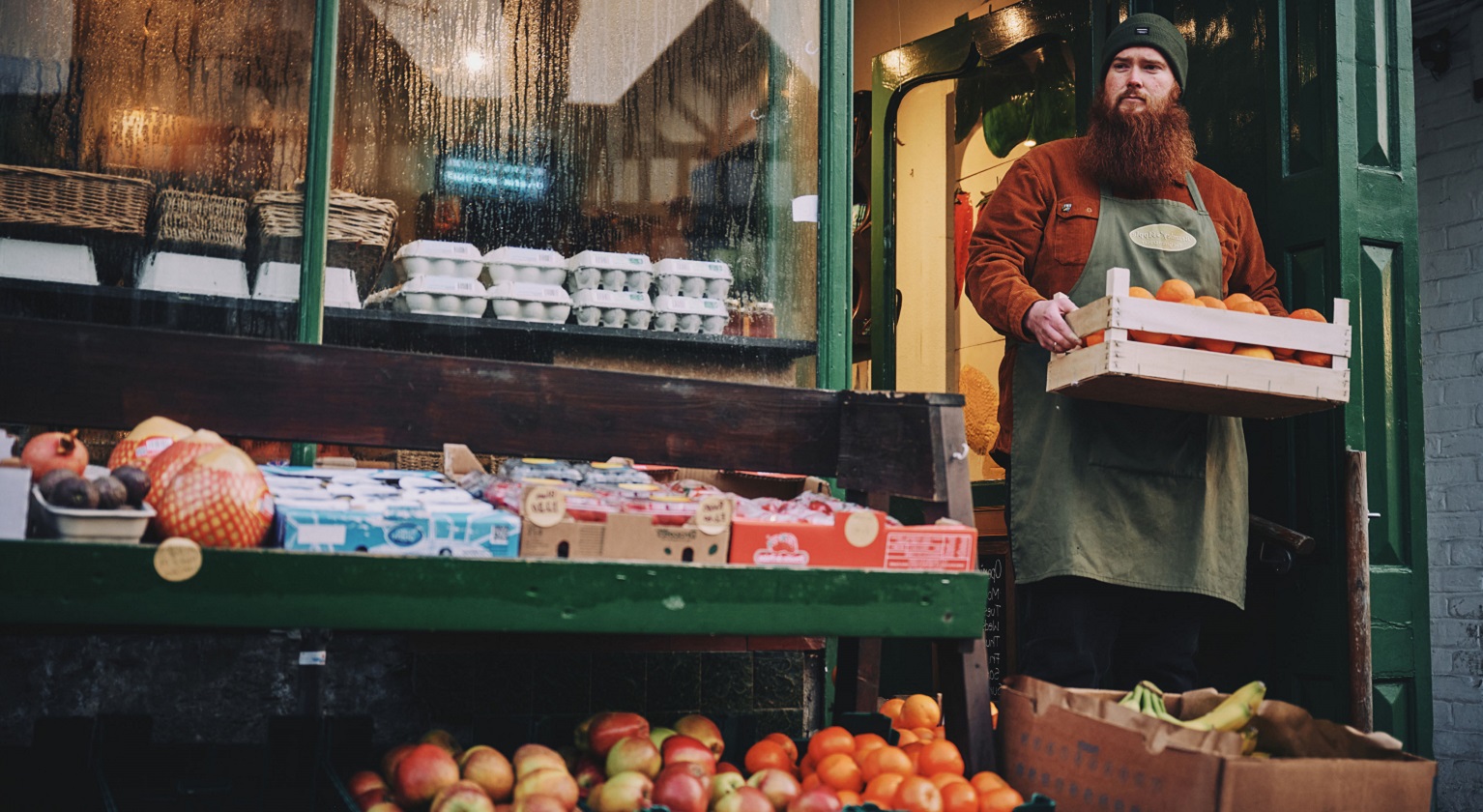 We operate in an increasingly dynamic market and have to respond to an ever-changing external environment. We've built our business and our strategy to manage the fluctuations we see.
Highlights

Digital adoption continues to accelerate, with COVID-19 driving a continued shift in customer behaviours.

New technologies are increasingly being deployed to deliver significant improvements to customer experience and deliver a step-change in efficiency.

Cyber security and the protection and appropriate use of customer data remain important factors in retaining customer trust.

Market dynamics

The pace of digital adoption amongst customers continues to increase and a physical presence is no longer a prerequisite for customer growth. New business models based around ecosystems and networks are new sources of scale, enabled by a supportive regulatory environment and next-gen technology such as cloud and APIs.

Banks have reduced branch networks in 2021, adapting to changing customer usage, and have made significant investment in technology to respond to new competition and to meet increasing customer expectations. Investment in data capability remains important, using insights to gain a better customer understanding and to deliver more personalised customer interactions. For banks with significant data assets, this represents a potential competitive benefit, as well as an integral responsibility in safeguarding this data against cyber threats. Deployment of new technology to automate manual processes and improve defences against fraud has allowed both customer experience enhancements and efficiency savings.

Beyond this, the sector is increasing investment in new technologies that have the potential to transform customer offerings and deliver a step-change in efficiency, from the migration and simplification of legacy systems to the creation of new cloud-based architecture. While many of these initiatives are in their infancy and pose significant challenges in execution, successful adoption has the potential to deliver highly innovative customer propositions with a significantly reduced time to market, as well as a highly scalable, resilient and agile technology architecture at a significantly lower cost.

Our response

The Group continues to see significant value in its all-channel distribution model, maintaining a wide branch footprint to support our customers in accessing the channel of their choice.

In 2021 we have improved digital capabilities for both personal customers and commercial clients, adding features that our customers value such as variable contactless card limits. We have also been able to bring these to market more frequently than ever before, with mobile app releases increasing 1.8 times year-on-year. Importantly, despite the significant volume and pace of change this has not been at the expense of customer experience, with our record all-channel net promoter score maintained in 2021.

We are investing in artificial intelligence and machine learning to improve customer and colleague experience, and to drive operational efficiencies through automation. This enables our colleagues to focus on more complex, value-adding tasks to better support our customers. Advanced analytics deployment is improving fraud detection rates, a growing challenge in a more digital world. We have significantly increased investment in improving our use of data, with a more customer-centric view enabling us to identify customer needs more quickly and effectively, for example in better identifying and meeting more of our customers' banking and insurance needs.

We continue to explore the potential of new technology architecture, supported by strategic partnerships, and in 2021 we increased investment in this area to assess these capabilities and opportunities. This included the safe migration of around 120,000 back book customer accounts in a pilot of new bank architecture, providing a proof-point for our investment and to build confidence in our ability to utilise new cloud-based architecture.

In 2022, and beyond, the Group remains focused on delivering improvements for customers and colleagues, with increased investment levels enabled by our continuing focus on efficiency, to improve our competitive positioning and deliver sustainable shareholder returns.

Highlights

Given our focus on UK customers, the Group's prospects are closely linked to developments in the UK economy.

The economic outlook remains uncertain, dependent on success of vaccines and treatments for emerging variants of COVID-19 in allowing a return to pre-pandemic patterns of household spending, and in resolving current disruption to global supply chains.

We expect the UK economy to grow by 3.7% in 2022 after a weak turn of the year, and return to pre-pandemic growth in 2023 at 1.5%.

Overview

UK GDP grew by over 7% in 2021, but recovery from the pandemic-driven 9% drop in 2020 was incomplete.

'Lockdown' measures at the start of 2021 were largely removed by mid-year, but household spending has returned more slowly towards its pre-pandemic level. The emergence of the Omicron COVID-19 variant in late November resulted in the imposition of 'Plan B' restrictions during December in England and some further restrictions on household mixing elsewhere in the UK. Unemployment was, however, held down by the government's furlough scheme, and at 4.1% in December after scheme closure was just 0.3 percentage points higher than pre-pandemic. Inflation, on the other hand, has risen recently to its highest in three decades and is likely to rise further by the second quarter of 2022. Disrupted global supply chains have struggled to match consumers' high demand for goods as spend has been diverted from services; energy prices jumped sharply due to supply disruptions and the labour force size has been reduced by elevated early retirement and sickness, and some return of EU citizens to their homelands.

UK GDP is expected to recover further in 2022, despite mild pandemic-related restrictions in January and household spending squeezed by high inflation. The strength of further recovery depends crucially on the degree to which COVID-19 vaccines and treatments allow a return to pre-pandemic spending patterns. It will also depend on how much improving global production capacity and domestic labour supply might start to reduce high inflation, and how rapidly interest rates may have to rise to help ensure that inflation falls back towards its target level.

Our forecast of 3.7% UK GDP growth in 2022 assumes no further 'lockdowns', that elevated inflation will begin to fall gradually during the second half of the year, and that interest rates will rise only mildly above their pre-pandemic level. There is a high degree of uncertainty around those assumptions, however.

The pandemic has also increased uncertainty for the longer-term economic outlook, adding to existing uncertainties stemming from new business processes and costs resulting from Brexit, and impacts of climate change. Deeply unequal societal impacts of the COVID-19 recession, and the current period of elevated inflation, might provoke large changes to taxation and benefits policies.

Market dynamics

The very unusual depth of recession and recovery, together with new types of government support, the furlough scheme and lending guarantees for businesses, for example, have resulted in unusual trends in our markets across 2020 and 2021.

Restricted spending opportunities, but incomes supported by furlough, has driven households' deposits to rise by a further 7.4% in 2021 after 9.9% in 2020. Recovery in consumer credit began only in the second half of the year, market balances are estimated to have fallen a further 1% in 2021 overall after their 9.5% fall in 2020. However, the strength of deposits and falling consumer credit payments provided resources to support house purchases, encouraged by the temporary stamp duty holiday and shifting preferences for space and location due to the pandemic. As a result, house prices have risen strongly, increasing almost 10% in 2021 after a rise of 5% in 2020, and mortgage market balances growth accelerated to 5.1% in 2021, its strongest since 2008.

Businesses' borrowing and deposits market volumes have also performed very differently to previous recessions. Lending guarantee schemes have driven a strong rise in SME lending and deposit market balances, unlike falls in previous recessions. Non-financial corporate deposits rose by a further 5.0% in 2021 after increasing 28.3% in 2020, and lending balances are estimated to have fallen by only close to 1% in 2021 after a strong 9.3% rise in 2020.

If the economy does gradually return much closer to pre-pandemic conditions through 2022, then these abnormal trends in our markets should begin to unwind. Households' deposit accumulation will slow and consumer credit rise, as household spending gets closer to pre-pandemic levels, with disposable incomes under pressure from inflation.

The housing market is expected to quieten now stamp duty has returned to its normal rate, and as interest rates rise, we expect broadly flat house prices in 2022. Businesses are likely to begin to use some of their deposits to pay down some of the large increase in borrowing now that interest is becoming payable and the worst point of the economic crisis appears to have passed. We expect businesses' deposits to fall slightly in 2022, and their lending balances to rise only slightly, although that aggregate masks a significant fall expected for SME lending balances and a return to more normal rates of growth for borrowing by large companies.

Our response

Given our UK focus, the Group's prospects are closely linked to the performance of the UK economy. Our disciplined approach to risk, stable business model and focus on efficiency positions us well to continue to support customers irrespective of macro conditions.

Highlights

Competition continues to increase across the Group's core markets, from both long-established competitors and new, digitally focused entrants.

Neo-banks continue to gain customers at significant pace, although sustainable profitability of new business models remains unproven.

We are witnessing greater disaggregation of the traditional, vertically integrated business model as new competitors attempt to disrupt parts of the value chain.

Emerging signs of large, international peers expanding into the UK market through creation of digital-only offerings.

Market dynamics

The UK has a highly competitive market due to a proactive regulatory environment, a societal shift towards digital services and a thriving Fintech ecosystem developing innovative new business models on new technology and funded by plentiful private capital in the low-rate environment.

Digital-only providers have continued to see significant growth in customer numbers, particularly in the small business segment, supported by broader digital adoption. The largest neo-banks have scaled to compete with long-established banks, due to strong digital functionality and high levels of customer satisfaction. Despite this, financial sustainability remains unproven for most. Indeed, those that have started to highlight emerging signs of profitability have tended to mirror more traditional banking models. Nevertheless, digital-only providers continue to disaggregate the traditional vertically integrated banking business model by targeting the most profitable elements with innovative new propositions and attracting significant valuations (for example buy-now-pay-later).

Large international peers have also entered the UK market through new digital-only brands, with UK entry a likely precursor to broader international expansion aims. While these businesses are currently in their infancy with limited product offerings, there is scope to significantly scale these businesses and provide a competitive offering over the longer term, supported by significant investment budgets.

Traditional UK bank competitors have refocused on core business areas and improving their digital offerings. More diversified peers have delivered higher revenues during the COVID-19 pandemic compared to those with a greater gearing towards net interest income, although an improving rate outlook is likely to support these business models. Peers have also continued to accelerate restructuring exercises to offset revenue headwinds, including significant reductions in branch numbers.

Our response

Our strong franchise, combined with ongoing focus on innovation, provides us with the ability to retain customer relevance and respond to changing expectations. Our all-channel, trusted brands and integrated model provides customers choice in how to interact with our services. While the usage of physical channels is reducing, they remain important for many of our customers and are a valuable channel for building trust and deepening customer relationships. We continue to respond to changing customer expectations and preferences, enhancing our functionality and increasing our speed to market, and maintaining our position as the largest UK digital bank.

Our extensive customer offering as the UK's only integrated financial services provider is a compelling, competitive proposition which we continue to enhance, delivering holistic solutions in areas such as Insurance and Wealth management, alongside our traditional Retail and Commercial Banking activities. This includes the growth of our wealth joint-venture, Schroders Personal Wealth, as well as the acquisition of Embark. These businesses enhance our existing capabilities and allow us to meet more of our customers' broader financial needs.

We remain cognisant of the evolving competitive environment and recognise that we must continue to build on and develop our competitive strengths, through diversification of our business, expanding our offering to customers and capturing new growth opportunities.

Highlights

Addressing climate change and societal challenges requires urgent action.

Stakeholders expect companies to play their role in developing a more sustainable and inclusive world.

This is fully aligned with our purpose of Helping Britain Prosper and our strategy.

Market dynamics

There is an expectation that companies help address broader societal and environmental challenges. The pandemic has accelerated this shift in expectations by exposing inequalities in our society but also demonstrating what we can achieve as a society if we work together. Similarly there is a growing urgency to tackle the global climate challenge. It is not only customers or society more broadly who demand action from companies to respond to these challenges, it is also our colleagues, shareholders and other stakeholders who recognise the role we can play in effecting change.

Our response

With our purpose of Helping Britain Prosper, we recognise we have a responsibility to help address the economic, social and environmental challenges the UK faces. As one of the largest UK financial institutions we are in a unique position to drive change.

In line with our commitments, to help Britain recover, we have in 2021, for example, helped over 193,000 small businesses to boost their digital capability, expanded the availability of quality and affordable homes by lending over £16 billion to first-time buyers, and supported the transition to low carbon by expanding the funding available under our discounted green finance initiatives from £3 billion to £5 billion.

We believe that responding more actively to society's key challenges is the right thing to do and an important enabler to building a better business and delivering higher, more sustainable returns to our shareholders. Our purpose forms the basis of our new strategy, including a strong focus on environmental and social topics, creating value for all of our stakeholders.
Highlights
COVID-19 has continued to profoundly impact our customers' lives, while also accelerating underlying behavioural shifts.

Against this challenging backdrop, we have provided support to our customers and clients, and ensured continued good access to banking services.

Personal and business customers are increasingly turning to digital channels for their simpler banking needs, with increasing expectations for speed, convenience, and relevance.

We have continued to invest in enhancing our customer propositions and our businesses, with a focus on deepening our customer and client relationships through our unique integrated banking, insurance and wealth offering.
Market dynamics
COVID-19 continues to have a profound impact on many of our customers' lives and finances, as the acute phase of the health crisis transitions to a new normal, albeit one with longer-term uncertainty.
In 2022 households and businesses face pressures from a rising cost of living, supply chain and labour market disruption, and elevated small business borrowing levels which challenge our customers' financial resilience. Longer-term societal challenges remain: acceleration to net zero; inadequate retirement saving; lack of advice at retirement; growing intergenerational wealth transfer; increasing wealth concentration; lack of affordable homes and a long-term increase in private renting; and maintaining access to cash and banking services for vulnerable customers and the 11 million people in the UK lacking essential digital skills. These underline the role we have in supporting our customers' financial lives with our unique, broad business model.
The experience of the past two years has accelerated customer trends that will persist. Customers' use of digital channels has increased, particularly for small businesses, with increasing expectations for convenience, speed, and relevance shaped by frictionless experiences outside of financial services.
Nevertheless, we see customers continuing to value human support for complex financial needs, such as long-term financial planning. We also continue to see our highest-value customers using human support. Therefore, there is a compelling case for an all-channel distribution model.
Businesses are increasingly turning to digital ecosystem solutions, seeking propositions that simplify operations and that seamlessly integrate their financial services into their processes such as accounting and payroll. Younger customers have shown increasing willingness to try new financial services, such as buy-now-pay-later and higher risk investments, influenced by new forms of social media. These trends illustrate the need to provide highly integrated financial service experiences, as well as the importance of the role of trusted brands in guiding customers in an increasingly fragmented digital financial services market.
Our response
In 2021, we have continued to provide support to our personal and business customers, including repayment holidays and government-backed loan schemes for businesses. Our colleagues have provided our customers good access to banking services, despite operational challenges and heightened customer need, with dedicated phone lines and additional support for vulnerable customers in place.
We have significantly increased our funding support for social housing, while also exceeding our mortgage lending target for first-time buyers by over £6 billion. Similarly, we have continued to support UK businesses in improving productivity and in achieving a sustainable recovery through a combination of digital skills training, mentoring and increased funding available under green finance initiatives.
Investment in our digital proposition continues to improve the experience of both our personal and business customers by modernising our technology architecture, with a focus on improving system resilience and efficiency, and responsiveness to fast evolving customer expectations. Consequently, our mobile apps are consistently rated ahead of our competitors by customers across 2021, with Lloyds Bank, Halifax and BoS all ranked in the top four on both Google Play and App Store. Similarly, our dual focus on improving our digital proposition and providing digital skills training has resulted in SME products originated via a digital source increasing by c.60 per cent year-on-year, exceeding our target.
We have invested in payments capability, successfully maintaining a market-leading share in card spending for personal customers and delivering a three-fold increase in the number of corporate clients onboarded to the new cash management and payments platform year-on-year.
We are uniquely positioned to serve our customers' lifetime banking, insurance and wealth needs in one place through a comprehensive product range. With ever increasing competition, we are investing in data capabilities to personalise and deepen our customer relationships and meet a broader range of needs, whilst ensuring we face the ethical considerations posed by new data uses. With this focus and our recent acquisition of the fast-growing investment and retirement platform Embark, we have increased our public target for net customer flows into our Insurance and Wealth business.
Strategy and purpose
Our purpose is Helping Britain Prosper.
We do this by creating a more sustainable and inclusive future for people and businesses, shaping finance as a force for good.
Find out more
Opens strategy and purpose page