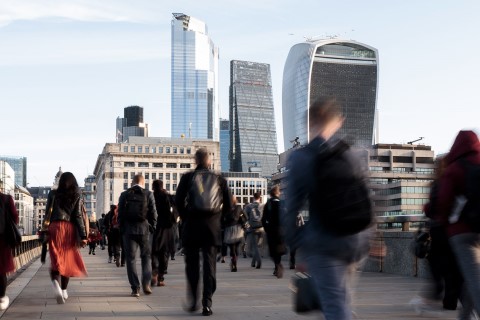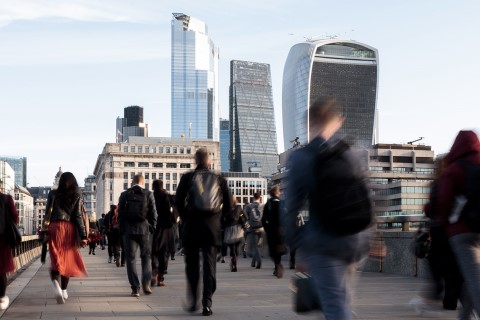 We operate in an increasingly dynamic market and have to respond to an ever-changing external environment. We've built our business and our strategy to manage the fluctuations we see.
Highlights

COVID-19 has profoundly impacted our customers' financial and nonfinancial circumstances, while also accelerating some underlying behavioural shifts

Customers are increasingly turning to digital channels for their simpler banking needs

Against the challenging backdrop caused by COVID-19, we have provided significant financial and nonfinancial support to our customers, while also ensuring continued good access to banking services and maintaining investment in enhancing our customer propositions

We will continue to respond to increasing expectations for speed, convenience, control and personalisation and deepen relationships with our customers and clients across our unique integrated banking, insurance and wealth offering

Market dynamics

The unprecedented social and economic challenges posed by COVID-19 have significantly impacted the lives of our personal and business customers, while also having the potential to adversely affect financial resilience and vulnerability, as well as inequality more generally, in the longer-term.

Against this backdrop, a number of customer trends that existed prior to the pandemic have accelerated, most notably the shift to digital channels. Customers are increasingly shopping online and turning to digital channels to meet everyday banking needs, while continuing to value human interaction and more direct support for more complex and immediate needs, such as addressing financial difficulties.

Customer expectations continue to be shaped by experiences outside financial services, with speed, convenience and greater levels of personalisation, based on more sophisticated data insight, becoming ever more important in an increasingly competitive market.

Our response

During the COVID crisis, we have been fully focused on providing the necessary financial and practical support in an empathic way to our personal and business customers.

We have introduced a range of measures to alleviate the most immediate financial pressures and provided support through dedicated Government backed schemes.

We have also ensured that our customers could continue to benefit from our multichannel model and have maintained good access to our banking services. We have also set up dedicated phone lines to give priority access to NHS staff and our more elderly customers.

Looking beyond our customers' financial needs, we have provided digital skills training to help more of our personal and business customers get online, mentoring support to our business customers, and increased support for our customers' mental health needs.

In addition to these more immediate priorities, we have continued to invest in our capabilities, improve our service and support, develop new propositions and deliver a number of significant enhancements, especially to the digital propositions available to our personal and business customers.

The COVID-19 crisis has impacted our customers in different ways and we need to ensure we are able to respond to everyone's circumstances and needs. From helping customers in financial difficulties to get back on track, to building their financial resilience and supporting the achievement of their life-goals across generations, we will continue to leverage our unique data and insights, capabilities and multi-channel business model, to deliver personalised and fit-for purpose propositions.

Now more than ever it is vital that we address our customers' needs holistically and leverage our unique reach, strength of our franchise as well as capabilities, such as Single Customer View. An end-to-end focus on customers' lifetime needs will create additional value for our customers and strengthen our competitive advantages.

In order to meet all our customers' evolving payment needs in their channel of choice, we will need to continue modernising our payments infrastructure to deliver a seamless customer experience. Our unparalleled market position and strong participation across the payments ecosystem mean we can support our clients in improving their payments systems for their customers, while simplifying the retail experience.

Our commercial clients have also seen their businesses being impacted in different ways and we will continue to support them through the crisis and get back on their feet, whatever their circumstances might be. We are also looking to help our business customers adapt and grow back stronger and more sustainably, introducing new value adding services and improving our capabilities. As businesses are increasingly looking to self-serve their simple banking needs, we are enhancing our digital offering and improving our product portfolio to deepen our client relationships through the cycle.

Highlights

The UK financial services sector is expected to remain highly regulated

FCA Conduct Rules now encompass the majority of Group colleagues, requiring high standards of integrity and skill in performing all roles. For further information, click here

Increased volume of new regulation and market reviews continue to be issued, with further regulatory changes anticipated

Uncertainty remains around the impact of the UK's exit from the EU on the existing regulatory and legal framework, in particular the extent of friction created by changing arrangement and potential for the UK to deviate from the EU's regulatory system

Market dynamics

The regulatory response to the COVID-19 pandemic has seen increased regulatory intervention and prioritisation of regulatory requirements relating to the fair treatment of customers. Key areas of focus for 2021 are below:

Customer treatment

Fair treatment of customers continues to be a priority for the FCA, with particular focus on those in vulnerable circumstances as well as long standing customers.

Capital regulation

The Group continues its implementation of regulatory capital developments including the final Basel III reforms.

IBOR transition

Progress continues, with alternative products delivered and transfer of clients to updated products underway.

Other

A number of other regulatory initiatives are underway which seek to address, amongst other things; operational resilience, climate change, general insurance pricing, onshoring EU regulations, strong customer authentication, culture and fraud. The Group also continues to respond to regulatory initiatives in respect of the COVID-19 pandemic.

Our response

As a Group we always seek to comply with all applicable regulation. Given the Group's customer focused, sustainable and low risk business model, it is well placed to meet these requirements and welcomes the positive effect that they have on the industry, its customers and other stakeholders.

Highlights

Our competitive landscape continues to broaden with an increasing number of digital-only providers, although the current environment has increased scrutiny on the profitability and sustainability of these business models

Established competitors continue to re-focus on core business areas, with some restructuring exercises accelerated to offset increasing revenue headwinds in the low-rate environment. More diversified peers have benefited through the COVID-19 crisis to date due to a reduced reliance on interest income and increased market volatility

Threat from big-tech and large international peers remains

Market dynamics

The Group continues to operate in competitive markets, with competition supported by regulatory change, ongoing shifts in customer behaviours and increasing levels of innovation. Against this backdrop the COVID-19 pandemic has significantly accelerated the pace of change in numerous areas.

Digital-only providers have continued to gain traction with customers. Neo-banks, in particular, have replicated a more traditional customer offering alongside strong digital functionality, while marketplace models enable collaboration and provide customers access to a broader suite of products and services.

However, the COVID-19 crisis has had a meaningful impact on a number of these businesses, slowing growth and limiting revenue streams. This has created a heightened focus on the profitability and sustainability of these models, with greater levels of uncertainty reflected in lower valuations in a number of recent funding rounds. While these pressures have the potential to limit disruptive threats over the near to medium-term, the threat from more differentiated businesses, often those who pursue a more traditional banking model, are likely to persist.

Beyond this, more traditional competitors have continued to re-focus on core business areas while also improving their own digital offerings. During the COVID-19 crisis, peers with more diversified revenue streams that are less dependent on interest income have tended to perform more resiliently, although the sustainability of these trends is uncertain given market volatility levels. In addition, some peers have accelerated existing restructuring exercises as a means to offset future revenue headwinds.

Finally, we continue to see a threat from leading technology companies and international incumbents, with these well positioned to potentially capture opportunities in the UK market with digital only offerings, and we have seen some emerging signs of this.

Our response

We continue to respond effectively to the threats posed by increasing levels of competition and a more challenging operating environment by offering products and services that our customers value.

Our strong franchise, combined with an ongoing focus on innovation, provide us with the ability to not only be relevant but also deepen relationships with our customers as we effectively respond to the changing environment.

Across our core markets we have remained open for business across all channels at a time when our customers have needed support, in line with our purpose of Helping Britain Prosper. Our multi-channel offering, including our leading branch network, allows us to reach a broad variety of customers and enables them to interact with us in whichever manner they prefer. This model, combined with the breadth of our offering as the UK's only integrated financial services provider, drives customer value, engagement and trust. This remain an important competitive advantage, which we will continue to strengthen and enhance, as we are looking to further deepen relationships with our customers through delivering holistic propositions across retail, insurance and wealth.

Looking specifically at our non-physical channels, we remain committed to investing in our digital offering. We continue to respond to functionality developments from neo-bank and big-tech peers that our customers expect to be replicated, and have a strong pipeline of developments for 2021, with faster time to- market thanks to ongoing investment in technology. Our market leading, simple, low risk business model, and integrated financial services offering position us strongly to compete with a variety of other players in the market. It is therefore crucial that we further strengthen our competitive advantages and develop new ones by diversifying our business, expand our value-adding offering to our customers and capture new growth opportunities.

Highlights

Digital adoption continues to increase at pace, with a significant acceleration in 2020 as a result of COVID-19

Investment in new technologies is of increasing importance in order to deliver continued improvements to the customer experience and to improve operational efficiencies

Cyber security and the protection and appropriate use of customer data remain important factors in retaining customer trust

Overview

The pace of digital adoption has continued to accelerate in recent years. This has been underpinned by increasing similarities in customer behaviours and preferences across multiple geographies, heightened expectations of service based on experiences outside of financial services and continued improvements in functionality and capabilities within digital channels. Moreover, the pace of change has accelerated significantly in 2020 as lockdown measures reduced interactions through physical channels, despite these remaining available to customers should they be needed. This trend appears to have continued throughout the year, suggesting a more profound shift rather than a temporary one.

This continued change in channel preference has created an ongoing need for investment in technology across the sector. This investment often includes but is not limited to enabling the delivery of innovative new features for the benefit of customers, the upgrading and modernising of legacy systems, and the adoption of new technologies such as machine learning, artificial intelligence and cloud based solutions in order to increase the effectiveness and efficiency of an organisation.

Banks have also continued to invest significantly in their data capabilities in order to harness insights and utilise these in order to further improve customer experience. By having a better understanding of customer trends and expectations, banks are able to increase their relevance and offer greater levels of personalisation, replicating experiences that are commonplace in other digitally focused industries. The increased focus on the sharing and utilisation of data has created a growing onus on the safeguarding of this, with this of particular importance given that trust remains a key differentiator between established banks and newer, digital-only financial service providers.

Our response

To support our position as the largest digital bank in the UK, we have continued to invest heavily in technology and digital initiatives to ensure that we can continue to deliver a leading customer experience across our differentiated multi-brand, multi-channel model. While the COVID-19 pandemic has led to some slowdown in overall investment spend, we have continued to prioritise digital initiatives, with our technology spend remaining weighted towards creating new capabilities and enhancing existing ones to improve the overall customer experience. During the course of the year we have continued to improve our digital functionality and have simplified digital journeys for our customers, and we expect to further develop these areas in 2021 with a customer-centric pipeline of updates.

During the course of 2020, we have also continued to embrace the use of new technologies to improve processes and deliver productivity enhancements, which in turn deliver improved experiences for both customers and colleagues.

This includes using robotics to process over 90 per cent of Bounce Back Loan applications, having built this process from scratch, using technology to accurately and at scale provide credit decisions at a time when customers required urgent support. The use of robotics has significantly improved colleague capacity to focus on providing additional customer support. Across the Group, we have saved more than 1.8 million hours through the use of robotics over the last three years, including over 700,000 in 2020 alone.

In addition to improving outcomes for customers, significant investment in new technologies and the modernisation of our existing IT architecture have supported our ongoing focus on efficiency, with business as usual costs down 4 per cent in 2020. This relentless focus on efficiency continues to create capacity for future investment, helping us to future proof our business.

Given the ongoing shift to digital, ensuring that customer data remains safe is becoming increasingly important. We are therefore continuing to invest in the resilience and security of our systems.

Highlights
Given our focus on UK customers, the Group's prospects are closely linked to the fortunes of the UK economy.

The economic outlook is highly uncertain, dependent on how fast the UK can deliver vaccines and how effective they are against potential variants of COVID-19.

We expect the UK economy to grow by 3 per cent in 2021 after a weak start this quarter, followed by brisker growth of 6 per cent in 2022. There are uncertainties in both directions.

Our low risk business model and focus on efficiency serves us well in an uncertain environment. Nevertheless, improving Group financial performance is heavily dependent on economic recovery.
Overview
2020 was an extraordinarily difficult year for the UK economy with GDP falling by almost 10 per cent due to the restrictions on activity necessary to contain the COVID-19 pandemic. Emergency action from the Government and banks was key in limiting long-term damage, but the pace and extent of recovery are uncertain, dependent crucially on how quickly and how completely vaccine programmes in the UK and abroad can be delivered and suppress mutating variants of COVID-19. Significant restrictions on activity are expected to ease only gradually through 2021, and unemployment and business closures will drag on the economy's ability to return to the pre-COVID level of output, which we expect to take until during 2024.
The economy could perform better than this central expectation, if there is a quicker impact of vaccines on the ability to ease activity restrictions or a sudden release of unexpected savings that some households have accrued. On the other hand, difficulties in deploying effective vaccines and consequences on spending plans of the sharp rise in Government and companies' debt could lead to an even weaker economic recovery than expected. Uncertainty for the longer-term outlook has also increased, around the ability of productivity growth to improve, the impact of increased indebtedness on future interest rates and Government policy reaction to the deep and unequal societal impacts of the COVID-19 recession.
Market dynamics
The 2020 recession has been unlike any previous recession, driven by mandated restrictions on activity focused on sectors where social contact is highest, but accompanied by unprecedented policy support. The younger and lower-paid have been at greatest risk of lost employment or reduced income, while some others have had their financial position improved by a period of continued income but reduced spending.
This recession has impacted our markets very differently to previous recessions. Consumer credit fell sharply as spending was constrained, but growth in households' deposits was buoyed to over 10 per cent from 4 per cent in 2019. Mortgage balance growth slowed only slightly to 3.0 per cent from 3.4 per cent in 2019, companies lending rose strongly by over 9 per cent driven by the Government's guaranteed lending schemes, and companies deposits growth was also boosted to a very strong 28 per cent. The rise in unemployment, of 1.2 per cent by November has been much less than would normally be expected for such a deep fall in GDP, due to Government support via the Coronavirus Job Retention Scheme and the Jobs Support Scheme. The housing market has also been more buoyant through the second half of 2020 than expected, with prices rising by almost 6 per cent in 2020, benefiting from employment support, from the temporary cut in stamp duty, and from unexpected households' savings.
2021 is expected to see the start of unwinding of many of these impacts as consumer spending recovers further and businesses begin to pay down some of the debt recently accrued. Unemployment is expected to rise further to a peak around 8 per cent during the second half of 2021 as furlough support is withdrawn. We expect average house prices to fall 4 per cent in 2021, as the stamp duty reduction expires and as first time buyer demand is constrained by a lower employment rate amongst the young and very limited pay growth. Mortgages growth is expected to weaken to its slowest in seven years. Consumer credit growth is expected to remain subdued, and growth in households' deposits to slow sharply from its high rate of 2020. Balances of companies' lending and deposits are both expected to fall in 2021 after their large increases of 2020. Interest rates are likely to stay very low near-term, to help the economy recover at a time when Government and companies' debt has increased significantly.
Uncertainty for the longer-term growth outlook has increased. Productivity growth averaged just 0.4 per cent per annum over the five years to 2019, compared with nearly 2 per cent per annum before the 2008 financial crisis, and it is unclear how it will evolve in future. The post-financial-crisis recovery in business investment was weak, and investment fell very sharply again during the pandemic. Additionally, the change in our trading relationship with the EU has introduced additional processes and costs for some businesses. The pandemic may have provided an opportunity to boost productivity through more rapid changes to working practices, preferences for living locations, and accelerated adoption of online purchasing than would have happened otherwise. More positively, the Government's plans to 'level-up' the UK across its regions via a step-change in infrastructure investment could help to spur improved productivity growth.
Uncertainty for the longer-term outlook for interest rates has also increased. If high indebtedness drags on growth it may keep interest rates very low for a long time. However, it could also spur a change in policymakers' frameworks for managing economies, towards higher inflation targets and higher nominal interest rates, although this is unlikely for the UK over the coming year at least in our view. An early return to austerity or significant fiscal tightening represents a risk to the outlook.
Our response
Given our UK focus, the Group's prospects are closely linked to the performance of the UK economy. Our low risk, stable business model and focus on efficiency positions us well to continue to support customers irrespective of macro conditions.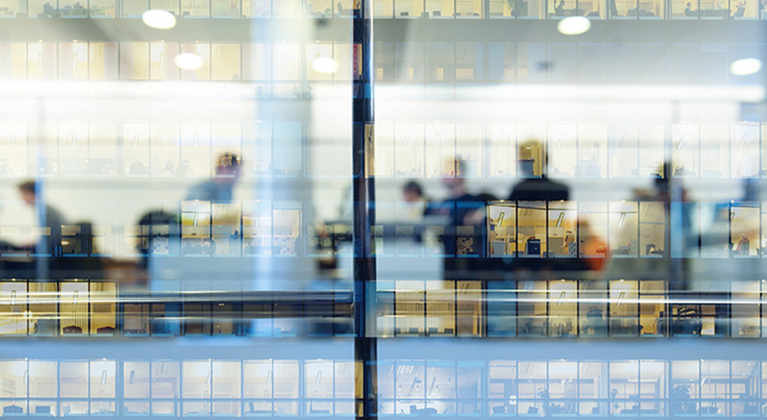 Our business model
The Group has a unique customer proposition enabling us to serve the financial needs of our customers in one place.
Read more
Our business model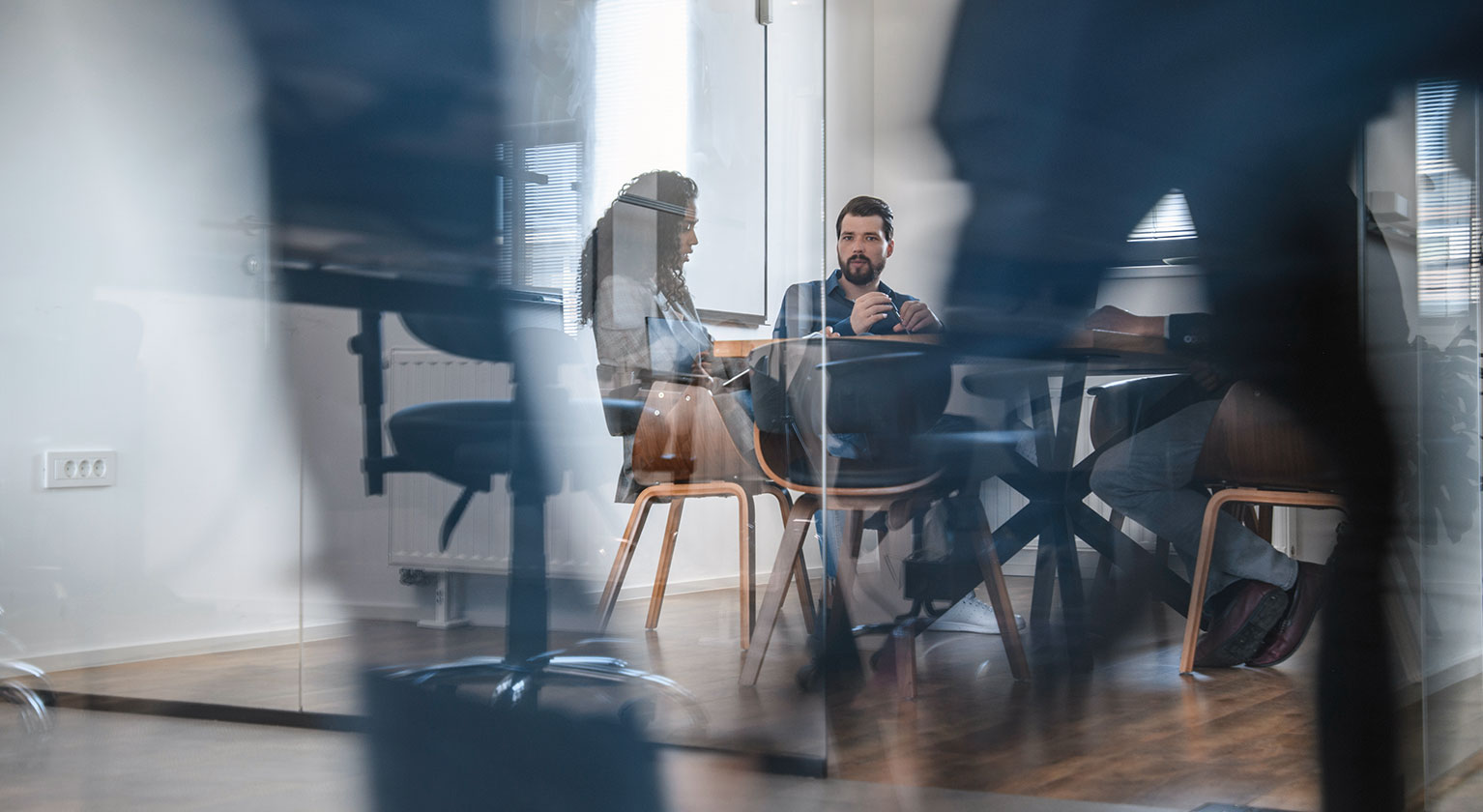 Our risk management
As a Group, managing risk effectively is fundamental to our strategy and future success.
Read more