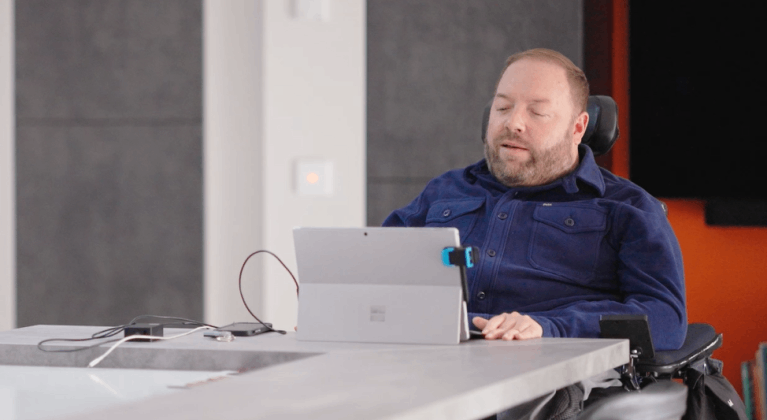 Creating an inclusive workplace for people with disabilities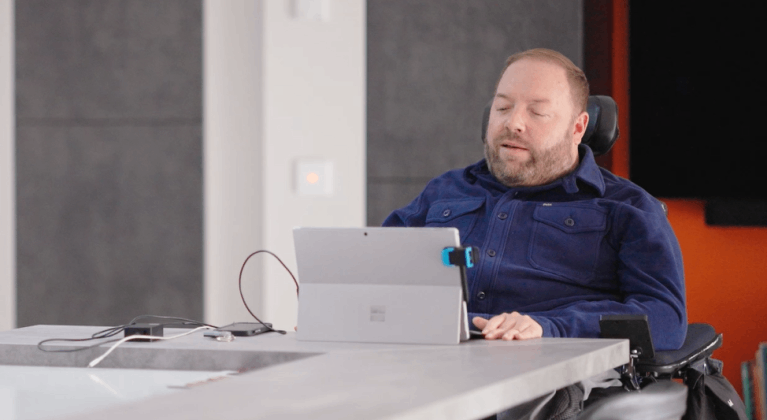 Ross Hovey, Group Accessibility Manager, talks about how flexible working, accessible toilets and an inclusive mindset have helped create a better working environment for people with disabilities.

03 August 2022
5 min read
Since joining Lloyds Banking Group in 2001 as part of the graduate programme, I've been able to move across the business in a variety of roles.
The graduate programme was a good start to the business from an inclusion point of view. My time on the programme was extended so I was able to experience all of the various placements with the necessary adjustments. I got to experience what it was like in branch, working face-to-face with customers, while also getting time in head office environments.
Currently, I'm the Group's Accessibility Manager, where I bring my lived experience and disability knowledge to help make the Group a more inclusive business for colleagues and customers.
While also progressing at Lloyds Banking Group, I've seen my external profile increase, to be seen as a subject matter expert where I consult and volunteer for other organisations, like Gatwick Airport where I sit on the Independent Accessibility Panel.
Creating an inclusive environment with flexible working
Even before COVID-19, the Group supported me and other disabled colleagues to work in a flexible way. Since 2005, I've had the choice to adapt my week as needed.
For me, working from home has some big advantages.
As a disabled person, it takes you longer to get anywhere than it does for a non-disabled person, because you can't always go direct to where you want to go. Sometimes you've got to go to the nearest accessible train station or you've got to find accessible parking. You can't jump on a train at the nearest local stop.
The other thing for me is that I can fit in a better work life balance. I can do physio and go for a swim more frequently when I'm working from home. When the weather is nice, it's good to be able to have the time after work to meet with friends and unwind.
There is also the advantage of walking meetings. When I don't need to see a screen, it can be good to get out of the house and have a quick walk around the park while on a call.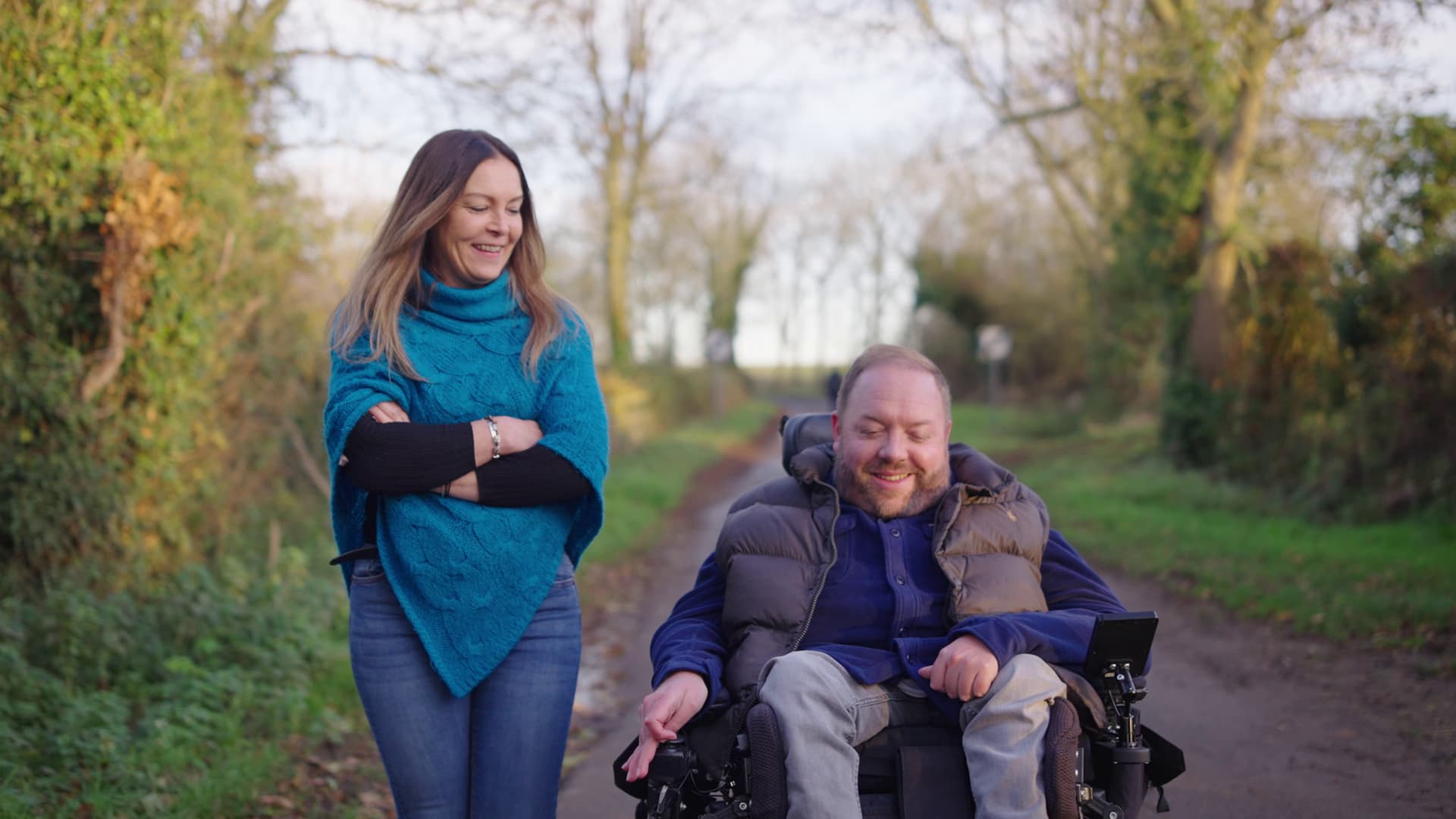 Working at Lloyds Banking Group: Ross
Video | 1 min
Hear from Ross Hovey, Group Accessibility Manager, who was named on the Disability Role Models list by our internal colleague network, Access.
Of course there are times when working face-to-face is better.
Sometimes as a team, we'll want to collaborate on something in a room with a notepad without the distraction of Teams pinging off in the background. Also, as part of my role, I'm tasked with looking at the accessibility of our buildings, so often I need to travel to different locations to see how they're progressing and give my feedback on how inclusive the space is.
I think for disabled people there is a stigma around working away from the office no matter what organisation you work for. A lot of the issues come with our own perception that working away means we need to prove ourselves more, especially when you are disabled.
People assume that those with disabilities are not going to do as well in their careers and that more effort will be required to complete a task. Often, we can have more frequent absences, due to health check-ups etc. This can mean that we're not as visible as other colleagues, and I think disabled people can be hard on themselves to prove themselves in a work environment.


Changing Places toilet
Standard accessible toilets meet the needs for some people – but there are those of us where specialist washrooms with extra space are crucial.
Changing Places facilities are designed to be completely accessible and provide enough space and equipment for people who are not able to use the toilet independently. They provide equipment such as hoists, curtains and space for carers.
In June 2022, Lloyds Banking Group became the first UK bank to open a registered Changing Places facility at our Old Broad Street Building. As well as being available for colleagues, the bank has also made the facility available to members of the public.
The introduction of this facility has made a huge difference for me. Prior to its installation my whole day was planned around toilet availability. I had to think about what I ate, where there was a Changing Places facility on route to work should the need arise for a more extended toilet visit.
I am eloquently trying to say that anything more than going for a wee was impossible and caused huge stress and anxiety.
I'm pleased to see that we have plans to add a further two facilities to sites which are currently being redesigned. Going forward, the inclusion of a Changing Places facility will be considered for all Group buildings.


Breaking down barriers in the workplace

Of course, there are still many barriers which organisations of all sizes need to consider.
On the topic of toilets, it'd be great to see other organisations roll out Changing Places facilities. As part of my job, I sometimes work with other organisations so we can support each other. It'd be fantastic to know that if I visit their offices, that there is a facility there which is inclusive of me.
There are many other ways organisations can make their workplaces better for all colleagues, not just those with disabilities; improved contemplation spaces, neurodiverse friendly environments, better evacuation options, etc. I think innovative ideas like a lending library for ergonomic equipment would be good in a hybrid world.
Overall, I think workplaces in the UK are getting better. There is more awareness and desire to put inclusion at the heart of what people want to do. But it could be faster.
My advice to organisations is to pause when a business decision is being made to think about customers and colleagues with accessibility needs. Something which I always say is, adjustments are a reaction to non-inclusive design.
If we designed inclusively from the beginning then we'd save a lot of difficulty later in the process.

Advice for people with disabilities who are looking for a job

If you've a disability and are looking for a job, I'd start by looking for organisations that talk positively about disability and inclusion. Nowadays with LinkedIn, it's really easy to see which organisations are doing good things. Then I'd speak to people in that organisation to make sure that the walk is as good as the talk.
When applying for a job, a lot of people feel uncomfortable about sharing their needs but they're almost setting themselves up for failure. If you don't tell someone that you need an adjustment for the interview, you won't have the opportunity to perform at your best. My advice is to get comfortable talking specifically about your disability and what you need from them in order to give you the best opportunity to shine.
Large businesses, like Lloyds Banking Group, are more likely to have the resources available to make the adjustments you might need and be inclusive of how you'd like to work. That's not to say that these traits are exclusive to large organisations, many smaller employers also do a terrific job when it comes to supporting disabled colleagues.
When you get the job; communicate your needs, trust your manager and use the workplace adjustment passport tool to have rich conversations as part of your 121's.
Join us as we reshape financial services
From customer focused roles in our branches, to specialist roles in tech and transformation - no matter what role you're in, you'll have the opportunity to make a difference.
Start your job search
Opens in same tab
About the author
Ross Hovey
During a career of 20 years, Ross has delivered in a variety of roles within Lloyds Banking Group and is now an established thought-leader and subject matter expert on Disability in the Workplace with extensive expertise in implementing and managing a workplace adjustment process.

His work in the field of Disability has gained significant respect and alongside his career he leads Changing Places International mission to set the global standard for fully accessible toilets and is a member of Gatwick Airport's Independent Accessibility Panel. He co-chairs an established employee network, WharfAbility, and more recently has started working with Permobil on developing their wheelchairs to be even better.
Ross uses his Banking HR CiPD and lived experience of disability to deliver on his passion for making not only Lloyds Banking Group but the world a more inclusive place for disabled people.
Ross' background
Read less
Roles and departments
From customer focused roles in our branches, to specialist roles and those in tech and transformation. No matter what role you're in, you'll have the opportunity to make a genuine difference.
Get more information
Opens in same tab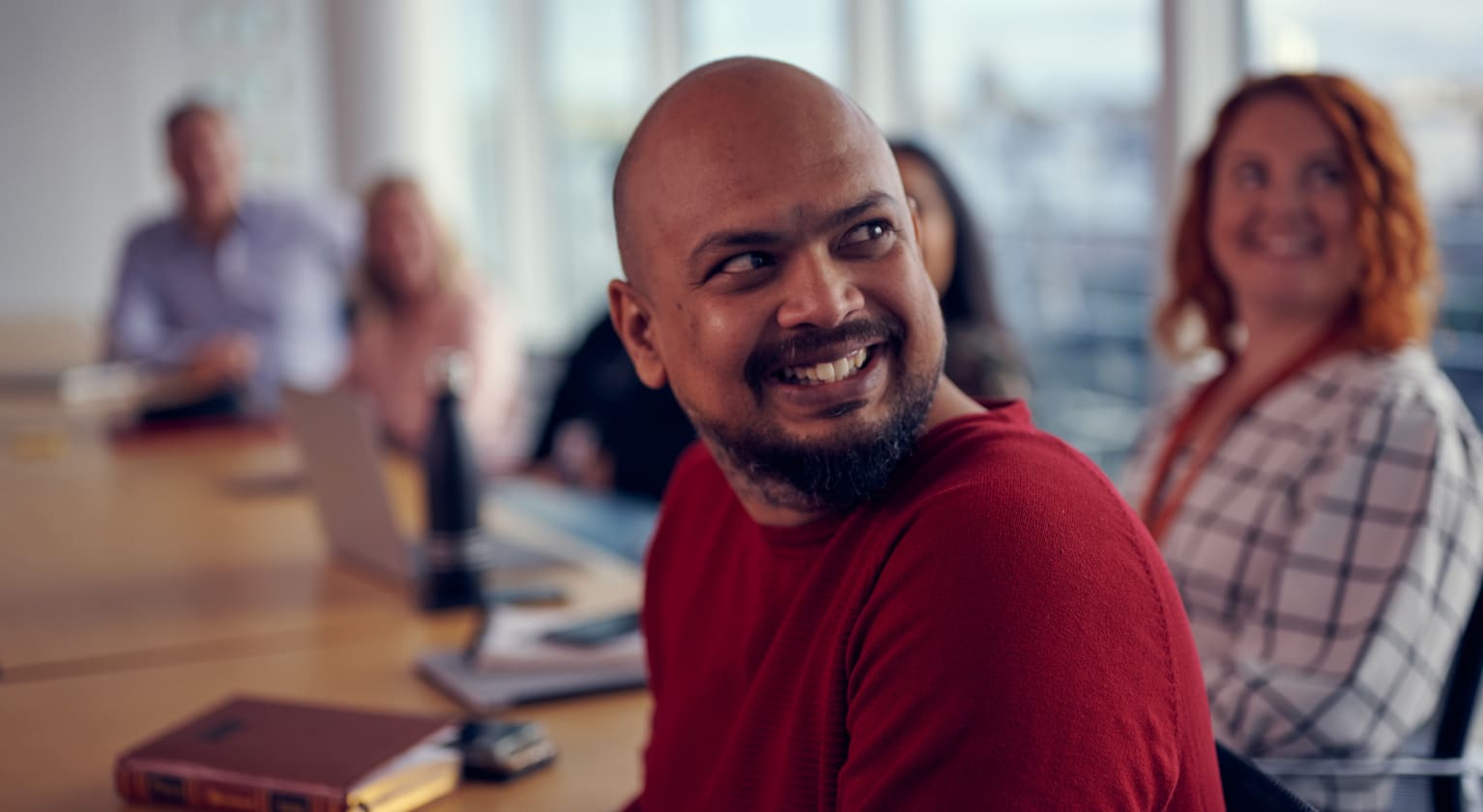 Inclusion and diversity
We strive to create a fully inclusive environment for all our colleagues, customers and communities, one that is truly representative of modern-day Britain.
Embracing our differences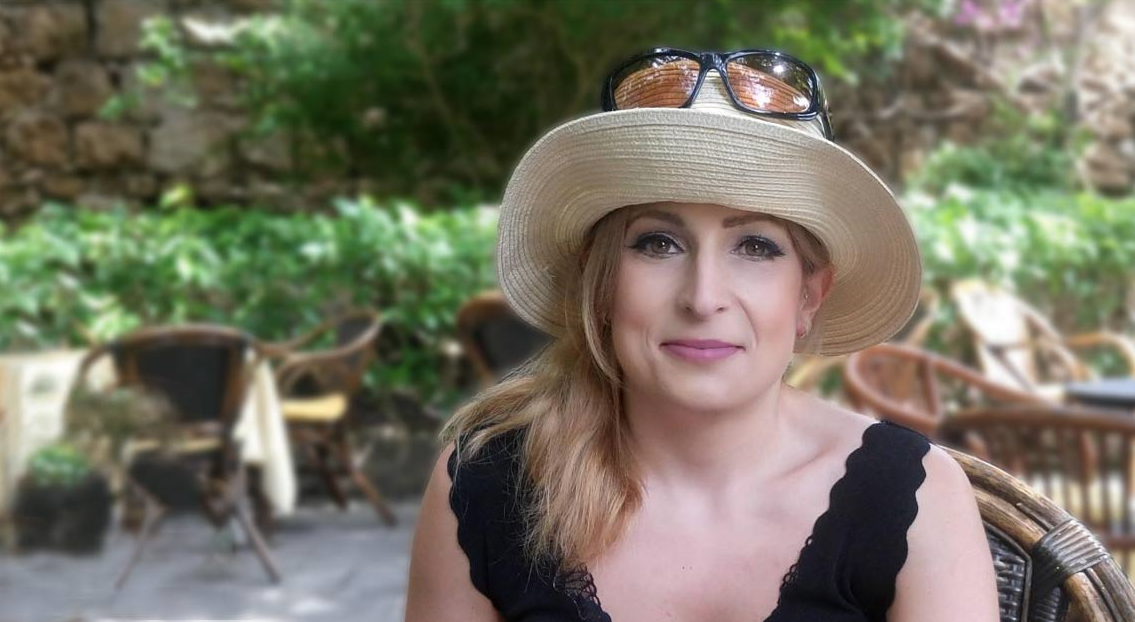 What does it really mean to be neurodivergent at work?
Accessibility advocate Heidi tells us about her experience of having autism in the workplace.
Read Heidi's article